I am always anxious to start gardening. The general rule of thumb is plant cold-hardy vegetables 4 – 6 weeks before the last frost, but I just can't wait that long! Our last frost isn't until mid June! Since I am impatient, I have come up with several different ways to create frugal cloches for my vegetable garden.
The easiest way to create a cloche is to cut the bottom off of a milk jug or juice container. Since they come with lids, you can easily remove the cap during the day to allow air to circulate and place the lid back on at night to protect the plants.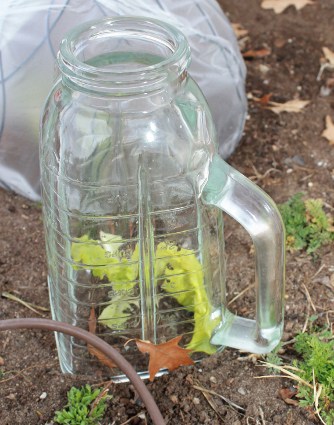 Glass hurricane lamps and blenders make great cloches for taller veggies. You just need to cover the top with plastic during the evening.
You can also use the blender attachment as a top on the inverted blender to help hold heat in through the night.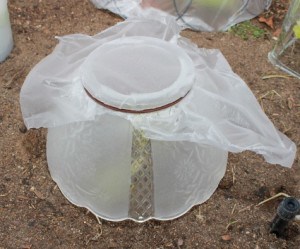 Old light fixtures can be used as cloches for shorter plants. Again, you need to cover the top with plastic when the sun sets. You can use a rubber band or hair tie to secure the plastic.
In early spring I cover my hanging basket with plastic and turn them upside down over plants to create a temporary, makeshift cloche. I usually use a piece a plastic tarp to cover the basket. When I don't have any plastic tarp, I just grab some plastic wrap from the kitchen. Secure the plastic with packaging tape.
Vinegar jugs are my favorite item to turn into a cloche. They have a lid, so I don't have to make one, and the lid is attached, so I don't have to worry about storing it when I'm not using it.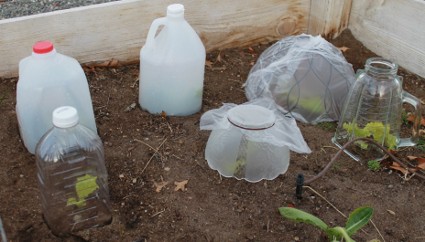 My cloche hodgepodge may look funny, but it keeps my semi-hardy plants alive through hard frosts. And when we experience a big temperature drop and I need to protect lots of plants at once, I will use plastic drop cloths to create temporary cold frames.
More Frugal Gardening Tips:
How to Make Raised Garden Beds
How to Extend a Short Growing Season
How to Make a Planter Out of a Tree Stump
How to Make a Mini-Greenhouse with Recycled Items
How to Make Fast and Easy Compost Pile Using Hay Bales
How to Extend Your Growing Season with a Container Garden
How to Get More from Your Square Foot Garden with Succession Planting