This DIY seed tape makes a great activity for the kids, especially if winter weather has you stuck indoors. Even before springtime planting rolls around you can spend some time prepping for your garden ahead of time. Making seed tape is a simple activity that only requires a few common supplies and a little bit of time. It is simple enough that you can let the kids take the lead after some simple instruction. Below is a tutorial showing How to Make Seed Tape with Newspaper.
How to Make Seed Tape with Newspaper
Items Needed:
Newspaper
scissors
marker
assorted seeds
flour
water
jar for storage
small rubber bands
Directions:
Cut newspaper into strips about 2″ wide.
On each paper write what seeds you will be "planting" on the end.
Determine spacing- you can usually find this on the back of the package. Use a ruler and marker to mark off distances, for instance on our radishes they recommend a 1″ planting space so we marked a dot every 1″.
Next we are going to create a "paste" for our seeds. In a small container stir a mixture of flour and water- how many seed tapes you make will determine the amount. I did about 1 Tbsp. flour and a couple teaspoons of water for 12 seed tapes and we had a lot left over, so just make a little and add as you go.
Drop your seeds onto the flour paste, allow to dry completely. We left ours overnight.
Roll seed tape up, write each plant name again on the outside, slip a small rubber band over the roll to hold it together.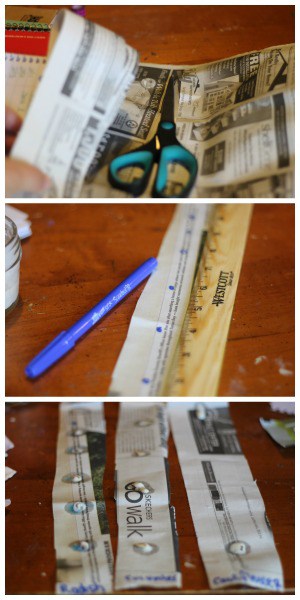 Place rolls in a mason jar in a cool, dark place to wait for planting season!
More Gardening Tips