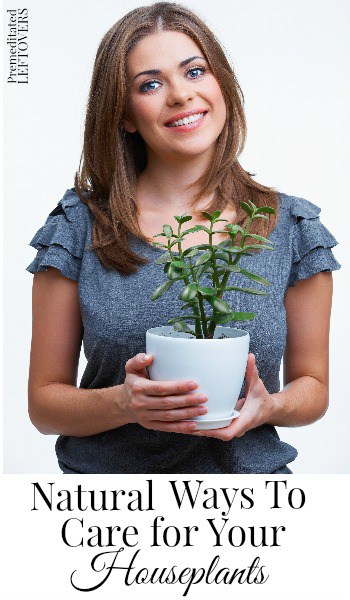 I absolutely love having houseplants. If I could, I would have a whole jungle growing in my home. One dream of mine is to have one of those enclosed patios that has tons of light but shields the plants from the cold weather and wind. I would create a mini-rainforest in it!
There are so many plant care products on the market promising to help you grow strong, brighter, and ultra healthy houseplants. However, some of the best care tips I have found have been natural ones that I can do myself. I hate the idea of putting chemicals or anything artificial on my plants. Here are some great tips on Natural Ways to Care for Your Houseplants.
Natural Ways to Care for Your Houseplants
Coffee: You can actually use leftover coffee to help your plants thrive. The acid in it actually helps make the soil more rich and your plants will love it. Don't get too carried away with it though, as it can change the acidity in the soil too much. Also, dilute it by a 1:1 ratio of coffee and water and the liquid should be cooled.
Melted Snow: This might surprise you, but plants actually love melted snow and rainwater, so when the weather cools and there is snow on the ground, go outside and get some and allow it to melt and come to room temperature.
Alfalfa Meal: You can buy alfalfa meal online or at gardening and pet stores and it is pretty much a plant super-food. It has lots of great nutrients in it to produce healthy indoor plants.
Earthworm Castings: These can be bought at nurseries or you can buy earthworm castings online as well. They provide excellent nutrients for the soil and are totally natural. They work best when you are re-potting and can mix some in with your soil.
Epsom Salt: This is usually bought in the health and beauty section of the store. Epsom salt is also know as Magnesium Sulfate, and is a natural source of the mineral. It is amazing for houseplants and I have been using it for years. My plants really like it when I do an Epsom Salt watering about once a month. To do this, just dissolve about 1/4 cup of Epsom salt per 2 quarts of water. I use warm water because it dissolves faster, but you don't want it hot. Then, water your plants as usual with it.
Bay Leaves: While we might enjoy the way they add great flavor to our favorite recipes, most bugs can't stand them. Crush some bay leaves and sprinkle them on the top of the soil of your plants. You might even consider just growing a bay leaf plant to keep near other plants.
Liquid Castile Soap: You can use liquid Castile soap on your plants as a natural pesticide. It will not harm your plants, but bugs will hate it. Just mix a small amount of it with water and periodically spray it on all parts of the plant including the underside of leaves and stems.
What natural ways to care for your houseplants have you come up with? I would love to hear your tips!
More Indoor Gardening Tips
10 Tips for Growing Indoor Herbs
How to Grow an Indoor Herb Garden