Use these tips for growing summer squash in your garden to grow yellow squash and other varieties of summer squash this summer.
Summer squash is one of the most delicious and versatile of the summer crops, whether you grow a variety of yellow squash or zucchini squash. It can be shredded and used in muffins and cakes or sliced, breaded, and fried, baked in casseroles, sautéed on the stove top, grilled, tossed in olive oil and roasted in the oven, chopped up and served fresh with ranch for dipping, and more. Squash flowers are also edible and can be tossed into salads. Summer squash can be grown with little difficulty if you keep a few things in mind. Below I will share my tips for growing summer squash.
Secrets to Growing Summer Squash
Wait to plant squash until there is no longer any chance of frost.
Plant 2-3 seeds in each spot 2′ -3′ apart, about 1″ into the ground. Squash does not like to be transplanted and prefers to be directly planted into the soil. However, if you are eager to get plants started before all frost is past, I have had success planting them in peat pots – just tear away the bottom and plant the pot into the soil.
As your vines (or tendrils) begin to grow you can move them so they follow a certain path, but when they begin to grip don't mess with them or you can interrupt their growth.
You squash may seem slow growing, but once it begins to flower its growth will take off. Each flower will produce a squash, so take care not to knock off flowers while weeding in your garden or the fruit there will not grow. It can take as little as 7-8 weeks from seed to harvest.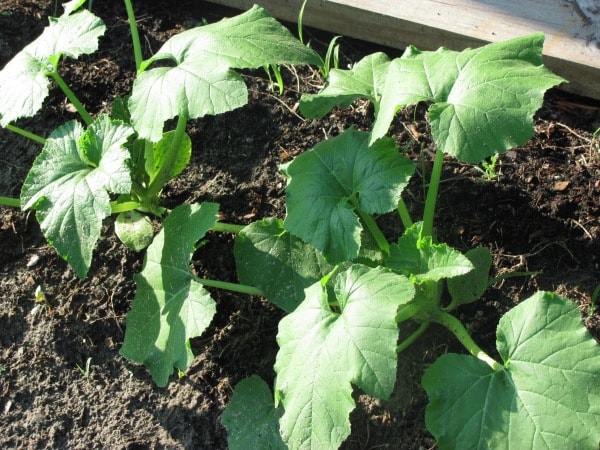 Plant in full sun, in well-drained soil, and be sure to give your plants some organic compost worked into the soil prior to planting. Provide steady moisture to your growing plants, avoid letting them dry out completely. Adding 2″ of mulch around plants will help retain moisture.
Squash is a good candidate for container gardening, just make sure you use a large enough container and keep the soil very moist. A 5-gallon bucket with holes drilled in the bottom is a good candidate for a pot. Spray paint it a pretty color, and it will look wonderful on your porch or deck.
If you want to have squash all season long (right into fall before the first frost), stagger plantings. I usually plant one at the start of spring, end of spring, and mid-summer. Here in the hot temperatures of Florida, I am lucky to have a long growing season.
Harvest young tender fruit when its 7″-8″ long and 2″ in diameter
Most people don't have a problem with squash bugs, but if you do, here are tips for dealing with squash bugs.
Here are recipes to use up summer squash once your plants start producing.
More Vegetable Growing Tips:
Tips for Growing Heirloom Tomatoes
Tips for Growing Gourmet Lettuces
10 Tips for Growing Larger Onions