Each summer I compile a list of yellow squash recipes to address the abundance that a few squash plants can provide. Below is a list of delicious squash recipes created to help you use up your summer squash. Once we start harvesting squash it isn't long before I am working it into every meal and my husband and kids are chanting "squash for breakfast, squash for lunch, squash for dinner, munch, munch, munch". It isn't quite that bad, but almost. 🙂
Summer Squash is a broad term that includes all squash that reach maturity in the summer (instead of fall squash like pumpkins). When I am in the garden I am inclusive in my definition, but once I step into the kitchen I tend to limit my definition or summer squash to the yellow squash varieties.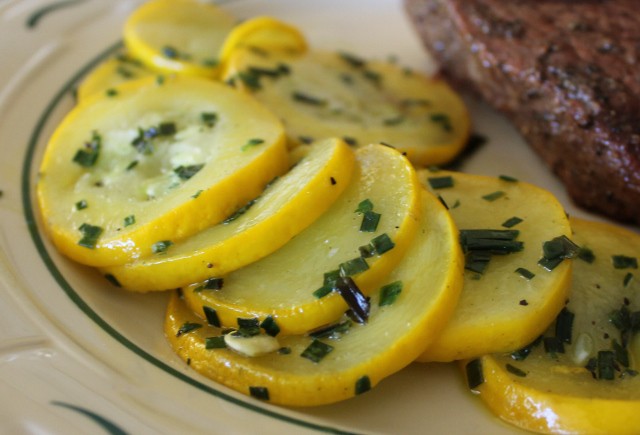 Yellow Squash Recipes that allow us to savor fresh picked squash:
Grilled Chicken and Vegetable Fajitas
Sautéed Summer Squash and Zucchini
Herbed Chicken on Vegetable Confetti
Sautéed Squash with Onions Shelia at KnitsCooksCrochets prepares her yellow squash in a similar manner only she sautés her onions in butter instead of olive oil.
Breakfast Recipes with Yellow Squash:
Hash Browns with Summer Squash
Don't feel guilty sneaking squash into breakfast recipes. Desperate times call for desperate measures. You can also work summer squash into lunch with recipes like this Squash Calzone:
Summer recipes where the squash acquires more flavor from the recipe's other ingredients:
Chicken Pesto and Couscous Salad
Grain-Free Lasagna with Summer Squash
Angel Hair Squash with Garden Vegetables
Squash-sagna and here are more recipes that use squash as an alternative to noodles
Yellow Squash Tips:
If someone give you a large yellow squash, enjoy it, but if you are buying it by the pound choose smaller squash since they have fewer seeds.
Grated summer squash can be used to replace carrots in carrot cake or zucchini in zucchini bread!
You can freeze your squash. Cut it up into bite size pieces or shred it then freeze it. Erin at $5 Dinners cuts up summer squash along with zucchini, carrots, onion,and celery then freezes it so she can pull it out and add it when she makes Zucchini Freezer Soup.
Amy at The Finer Things in Life has compiled a wonderful list of zucchini recipes, many of which could be adapted to include summer squash.
You can pickle squash! Kendra at New Life on the Homestead shares her recipe for Squash Pickles.
You can eat summer squash raw. Try adding some to your next salad or one of these salads: Italian Squash Salad, Pasta Salad with Squash, and Southwest Pasta Salad.
You can easily grill squash. Cut yellow squash in half inch thick slices, coat with your favorite marinade, and grill it alongside your steaks. Grilled Squash is great in Grilled Ratatouille.
What is your favorite yellow squash recipe or summer squash recipe?