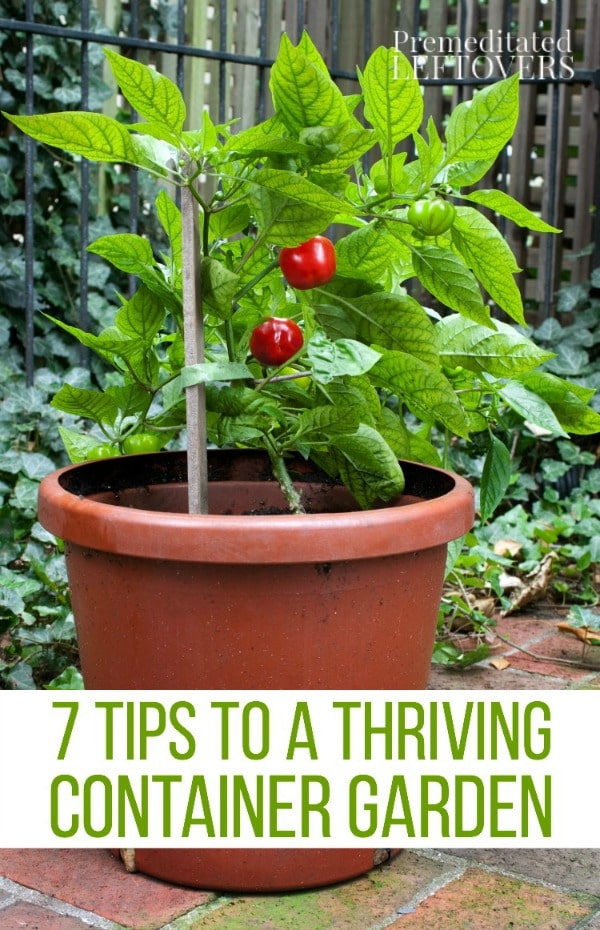 Container gardening is becoming more popular for its ease and convenience. You no longer have to plow a large garden in order to enjoy fresh fruits and vegetables in your own home! These Tips for a Thriving Container Garden will help you grow healthy and productive plants in containers of all types.
Tips for a Thriving Container Garden
Keep indoor plants in a warm environment. Some people find it easier to keep their container garden inside. It is easy to keep your plants safe from hazardous weather, pets or pests when they are away from outdoor elements.
However, you want to make sure they aren't too close to the air conditioner, or they won't grow near as well. Close off a room in your home, or set the containers out on the back porch or in a sunroom that isn't cooled.
Make sure the containers receive plenty of natural light. This is another important consideration when growing your container garden indoors. Your plants will need lots of sunlight to thrive. Line them up along the windows, or carry them outside for several hours each day in order for them to get the light they need to grow.
Have a space where you can move outdoor containers in the event of extreme weather. Because of the heat and light issues, some gardeners find it easier to house their container gardens outdoors all the time. Unlike a traditional garden, however, you can easily transport the plants to safety when they are in containers. Plan ahead for bad weather or other issues that may arise and decide where you can store plants.
Choose plants suitable for container gardening. Not all fruits and vegetables will thrive in a container. To reduce the stress of gardening, you will want to select the best plants for this arrangement. The following are good ideas for planting in a container garden:
• Carrots
• Cucumbers
• Lettuce
• Peppers
• Tomatoes
• Herbs
• Strawberries
Use the right containers for your plants. Make sure you invest in containers that will properly hold your plants and keep them safer. Larger crops may call for a wooden crate. Plastic containers are a very popular choice, but most don't last more than a single gardening season. Terra cotta or ceramic pots are more durable options, but you should be careful when moving these as they can break during transport.
Water your container plants often. When grown in a pot, plants tend to need more water than in a traditional garden. The soil dries out quicker when in a container. You want to make sure you keep the dirt moist, but not overly saturated. Your container should have drainage holes to let excess water flow out and away from your plants.
Fertilize the soil. Because your plants won't be getting nutrients from the ground, it's important that the soil you use in your container garden is well nourished and fertile. Use a slow-release fertilizer in your containers to provide nutrients that your fruits and veggies need for up to 3 months. Then, you can always just spread more fertilizer across the top of the container as needed.
More Container Gardening Tips:
How to Grow Produce in Containers
Container Gardening in Small Spaces