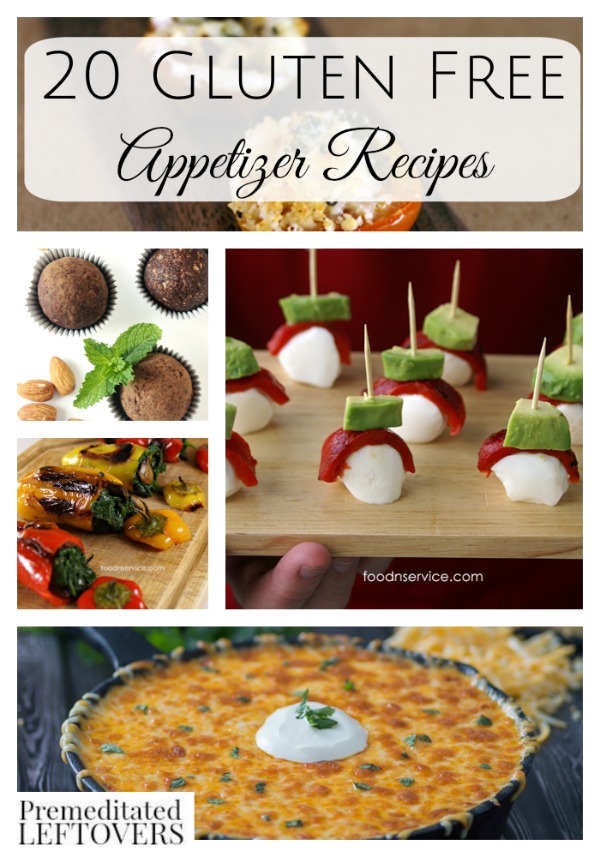 Whether it is a game day event or a holiday party, these Gluten-Free Appetizer Recipes are perfect for your next event. Create a delicious yet safe to eat buffet of treats that everyone will enjoy. From dips to snacks and even items like chicken nuggets served with homemade sauces, this list of gluten-free appetizers is going to leave you and your guests satisfied. Check out some of our favorites and start whipping up your own amazing appetizers!
20 Gluten-Free Appetizer Recipes
One Skillet Chicken Burrito Dip from Almost Supermom
Spicy Corn Relish from Busy At Home
Mint Chocolate Almond Energy Bites from Natural Chow
Easy Crispy Kale Chips from Gluten Free Goddess
Queso Fundido from Garden Of Gluten Free
Light 7 Layer Dip from A Day In Candiland
Roasted Red Pepper, Mozzarella, & Avocado Appetizer from Food 'N Service
Spinach Dip from The Viet Vegan
Gluten-Free Jalapeno Popovers from Premeditated Leftovers
Bacon Wrapped Asparagus from Recipes Just 4 U
Vegetarian Stuffed Sweet Peppers from Food 'N Service
Easy Strawberry Banana Appetizers from Today's Frugal Mom
Baked Plantain Fries from Natural Fit Foodie
Four Cheese Tomato Bites from Food 'N Service
Homemade Refried Bean Dip from You Brew My Tea
Gluten-Free Chicken Nuggets from Premeditated Leftovers
Raw Cashew Hummus from Gluten Free Goddess
Crispy Baked Beet Chips from Tasty Yummies
Gluten Free Slow Cooker Meatballs from Gluten Free On A Shoestring
Spicy BBQ Zucchini Chips from Rawfully Tempting
You won't have to worry about issues with gluten when you prepare these amazing gluten-free appetizer recipes. Yummy meatballs, special roasted stuffed peppers, or a classic bean dip are all excellent choices that everyone will enjoy. Set up a great buffet of appetizers for your friends and family at your next dinner party, holiday event, or just before dinner on a regular weeknight. These great recipes are perfect for any event!
More Gluten-Free Appetizers
Gluten-Free Herbed Bread Sticks and Dipping Sauce