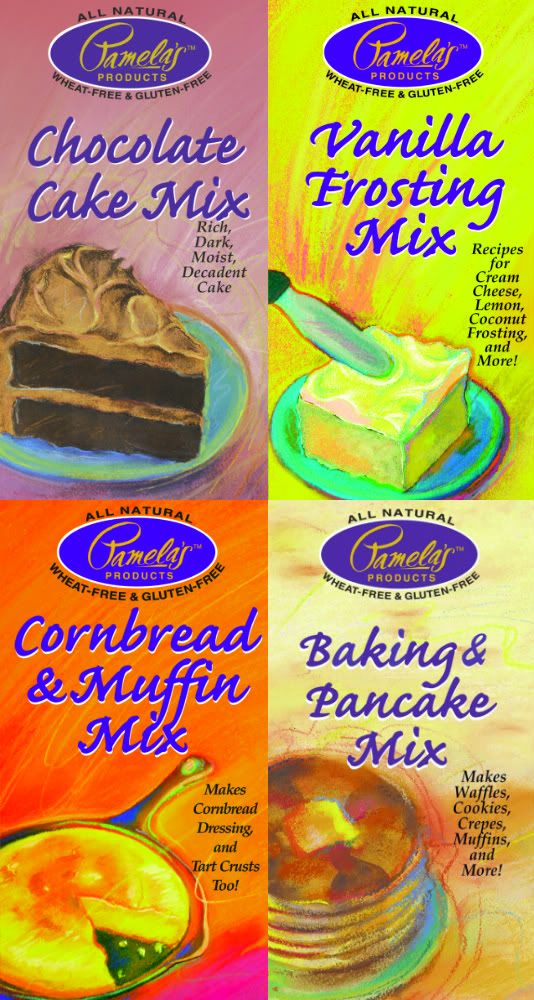 A big thank you to Saxifrage at Sweet Sensitivity for the wonderful prize package from Pamela's Bakery. The package included the products that you see to your left and a bag of Extreme Chocolate Mini Cookies. The cookies are delicious eaten by the handful, but I am going to smash them and use them to make a chocolate pie crust.
I am so excited to have these mixes to play with; I really enjoy doctoring mixes! When I return from my trip this weekend, I am going to turn my attention to experimenting with these items. I will let you know what I come up with, until then here are a few of my previous creations using Pamela's mixes:
Easy Applesauce Cake
Easy Triple Chocolate Cake
Ingredients:
1 package Pamela's Classic Vanilla Cake mix
1 1/2 teaspoon cinnamon
1 teaspoon ginger
1/2 teaspoon nutmeg
3 large eggs
1 cup pureed pumpkin
2/3 cup evaporated milk
1/3 cup vegetable oil
1 cup white chips (Optional; you could choose to go a healthier route and add nuts or raisins. But this recipe really does not need any extras to make it delicious).
Directions:
Preheat oven to 350 degrees. Grease a bundt pan.
In a large mixing bowl, combine cake mix, spices,eggs, pumpkin, evaporated milk, and vegetable oil. Beat on medium speed for 2 minutes. Pour into prepared bundt pan.
Bake for 40 – 45 minutes or until wooden toothpick inserted in cake comes out clean. Cool in pan on wire rack for 20 – 25 minutes; invert onto cake plate and let it cool completely. Drizzle with glaze
White Chip Cinnamon Glaze
3 Tablespoons evaporated milk
1 cup white chocolate chips
1/2 teaspoon cinnamon
In a small sauce pan, heat evaporated milk until it reaches a boil. Remove from heat. Add chips; stir until smooth. Stir in 1/2 teaspoon cinnamon. Drizzle glaze over cake.
Do you have a favorite Pamela's Bakery product? If you enjoy using Pamela's Bakery items you will enjoy reading Saxifrage's wonderful interview with Pamela!