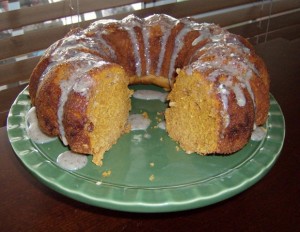 I love baking from scratch. But sometimes life is crazy. Fences blow over, printers break, horses get injured, children get sick…but life goes on, so you try to find a way to fit in the sweet stuff despite everything that is going on around you. That is when I turn to one of Pamela's Gluten-Free Cake Mixes
to save the day. I doctor the cake mix to make a fast, easy, and delicious cheater dessert.

Gluten-Free Pumpkin Spice Cake
A fast and easy gluten-free Pumpkin Spice Cake
Ingredients
1 package Pamela's Products Classic Vanilla Cake Mix
1½ teaspoon cinnamon
1 teaspoon ginger
½ teaspoon nutmeg
3 large eggs
1 cup pureed pumpkin
⅔ cup evaporated milk
⅓ cup vegetable oil
1 cup white chips (optional)
White Chip Cinnamon Glaze
3 Tablespoons evaporated milk
1 cup white chocolate chips
½ teaspoon cinnamon
Directions
Preheat oven to 350 degrees. Grease a bundt pan.
In a large mixing bowl, combine cake mix, spices,eggs, pumpkin, evaporated milk, and vegetable oil.
Beat on medium speed for 2 minutes. Pour into prepared bundt pan.
Bake for 40 – 45 minutes or until wooden toothpick inserted in cake comes out clean.
Cool in pan on wire rack for 20 – 25 minutes; invert onto cake plate and let it cool completely.
Glaze Directions:
In a small sauce pan, heat evaporated milk until it reaches a boil.
Remove from heat. Add chips; stir until smooth.
Stir in ½ teaspoon cinnamon.
Drizzle glaze over cake.
Related Posts: