This week I have the privilege of sharing gluten-free holiday recipes created by Chef Cat Cora. The first recipe I am sharing is Wild Rice, Chorizo and Gluten-Free Bread Stuffing. The gluten-free bread for this recipe is created using Pillsbury® Gluten Free refrigerated pizza crust dough. This gluten-free dressing will make a delicious side dish for any of your holiday dinners.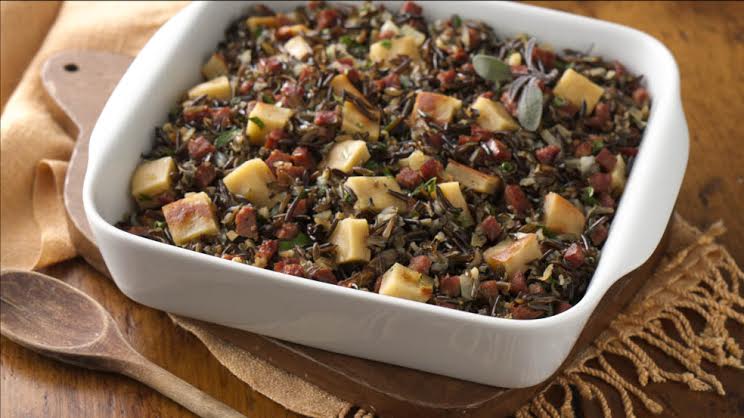 Try this twist on sausage-rice stuffing. White rice is replaced with wild rice. And instead of a traditional sausage, this recipe uses flavor-packed chorizo sausage.

Wild Rice, Chorizo and Gluten Free Bread Stuffing
Ingredients
3 cups water
1 cup uncooked wild rice
1 teaspoon salt
1 teaspoon extra virgin olive oil
½ container (13 oz) Pillsbury® Gluten Free refrigerated pizza crust dough
2 tablespoons extra virgin olive oil
½ lb gluten-free chorizo sausage, diced
½ cup finely chopped yellow onion
3 cloves garlic, finely chopped
3 tablespoons finely chopped Italian parsley
2 teaspoons finely chopped fresh sage
½ cup Progresso® chicken broth (from 32 oz carton)
½ teaspoon salt
¼ teaspoon pepper
Directions
In 2-quart saucepan, heat water, rice and salt to boiling; stir. Reduce heat to low; cover and simmer 1 hour or until most of the liquid has evaporated and rice pops open. Drain; set aside to cool.
Meanwhile, heat oven to 400°F. With hands, grease baking sheet with the 1 teaspoon olive oil. With oiled hands, press pizza dough into 6-inch circle onto baking sheet. Bake 13 to 15 minutes or until crust is dry and bottom is golden brown. Remove from baking sheet; cool on wire rack. Cut crust into bite-sized cubes.
Reduce oven temperature to 350°F. Grease 2-quart casserole.
In 12-inch skillet, heat the 2 tablespoons olive oil over medium-high heat. Cook and stir chorizo, onion and garlic 5 minutes or until onion is soft. Stir in parsley and sage; cook 1 minute longer.
In large bowl, stir together wild rice, pizza crust cubes, chorizo mixture, chicken broth, salt and pepper. Spoon into casserole; cover with aluminum foil. Bake 20 to 25 minutes or until heated through. Serve immediately.
Cat Cora made television history as the first female Iron Chef on Food Network's Iron Chef America, and most recently became the first woman to be inducted into the American Academy of Chefs® Culinary Hall of Fame. She is an accomplished author, restaurateur with six dining establishments, avid philanthropist and television host. Cora has authored three successful cookbooks, and one children's book. She has appeared in a number of hit TV food shows, including Food Network's Melting Pot; Kitchen Accomplished; NBC's Celebrity Cooking Showdown; and Bravo's Around the World in 80 Plates. In 2004, she founded Chefs for Humanity, a non-profit organization dedicated to reducing hunger worldwide by supporting humanitarian relief and promoting nutrition education. Cora grew up in an intimate Greek community in Jackson, MS, where she developed a passion for the culinary arts while watching her family infuse Southern spices with Mediterranean delicacies. She resides in Santa Barbara, CA, with her wife and four sons.