Return to the old-fashioned idea of exchanging homemade gifts with these 15 gifts kids can make for family and friends.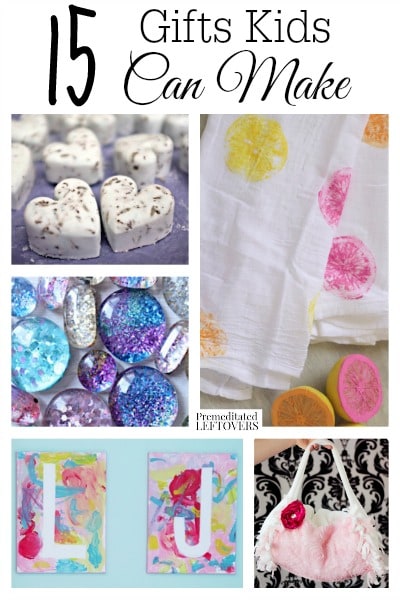 Sometimes, the handmade gifts we give others are the most meaningful and for kids, who often don't have money to spend on gifts but still want to give them, making gifts for others in one of the best ideas out there. Every year, my daughter and I have made gifts for family and friends and she really enjoys it. She puts her heart and soul into every gift she makes and it really shows. I have gifts from her from years ago and nothing will make me get rid of them. Here are 15 gifts kids can make that maybe will inspire you to help your little ones share the joy of giving this Christmas season.
15 Gifts Kids Can Make
There are so many ways you can personalize these Decorated Candles like Kylie's Korner did with her kids.
Bath Bombs are very simple to make and kids love putting the recipe in molds. This recipe is from Red Ted Art.
Make these Glitter Magnets from Deloop. So simple and very frugal considering you can get many of the supplies from the dollar store!
This one is so simple toddlers can do it! Make these Paper Mache Bowls from Happy Hooligans.
Smart Schoolhouse shows you how to make these simple Dipped Marshmallows that would be perfect to give as gifts.
Your kids will love making these Borax Crystal Ornaments from Club Chica Circle to give as gifts this Christmas.
These Hand print Salt Dough Santa Ornaments from Meaningful Mama are pretty awesome, too!
These Kid-Created Canvas Letter Art projects from Homemade Ginger look pretty cool!
I have never seen anything like these Citrus Stamped Tea Towels on Making Home Base. This one is so simple preschoolers could take part!
Make Glass Globe Ornaments with your kids with just some paint like Naturally Educational. You could make them in favorite sports teams colors for gifts, even!
Teens and Tweens will love making this No-Sew Purse from Fleece Fun for someone they love or their friends!
These "Stained Glass" Recycled Jars candle holders from Mom Spark are the perfect mix of upcycling and frugal and are easy to make.
Family Fun features a fun jewelry craft kids can make. Try these Ring-A-Ling necklaces made with washers! It is project idea #27 on the list.
These Melted-Bead Sun-catchers from The Artful Parent would make amazing Christmas gifts because you could hang them on the tree during the holidays and in the window the rest of the year!
Sugar Scrubs are super easy to make for kids and this Citrus Vanilla Sugar Scrub from Saved By Grace sounds delicious smelling, too!
This was originally published on November 13, 2014, and was updated on November 18, 2017.