Tic Tac Toe is one of those games that is classic and timeless. It's fun to play on paper, but even more fun when you have a simple DIY Pumpkin Tic Tac Toe Board to play it on as well. This fall, why not make this pumpkin themed Tic Tac Toe board with your kids? It will come in handy when the days get shorter and the nights get chillier. It's super easy to make and would go great as a conversation piece sitting on your coffee table along with your regular autumn decor. With just a few simple materials you can find around the house and at your nearest craft store, you could make this cute DIY Pumpkin Tic Tac Toe Board, too.
DIY Pumpkin Tic Tac Toe Board Tutorial
Materials Needed:
wooden edged square board (Michael's Craft Store)
black paint
paint brush
orange pipe cleaners
assorted plastic pumpkins in both white and orange
hot glue, glue gun (for parents)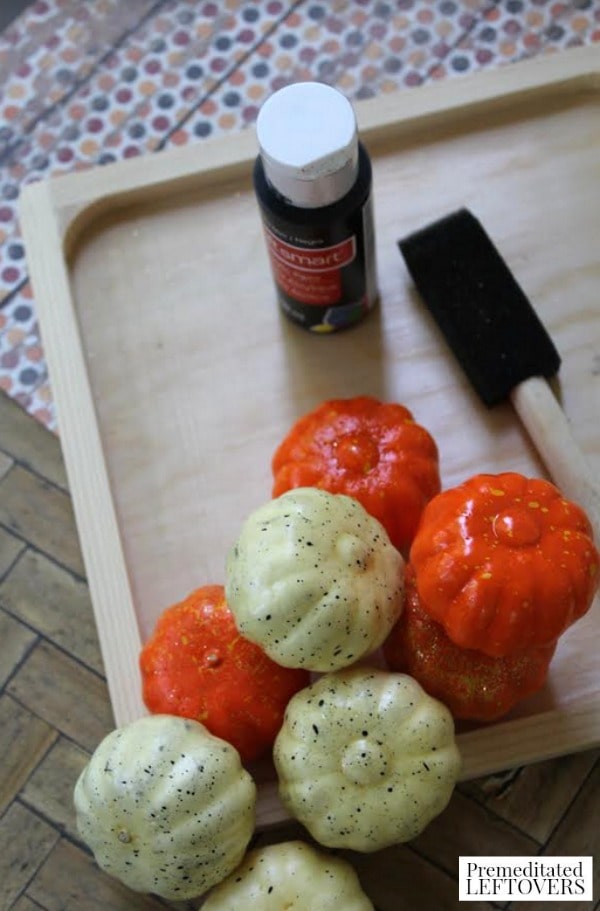 Directions:
1. Begin by applying two coats of black paint to the wood board. Allow the paint to dry well between coats for best coverage.
2. Once the paint is dry, you can start applying the pipe cleaners to help make your grid. We simply ran the pipe cleaners from one end of the board to the other and bent it over the edges. Use a dab of hot glue to press the end into place and secure it.
3. Continue this process so that you have two pipe cleaners running in each direction of the board. This will create your nine space grid.
4. The pumpkins can now be used to play. You want several white pumpkins and several orange so you don't get your pieces confused.
5. Play as you would any ordinary game of tic tac toe, with orange being the x and white being the o.
More Easy Pumpkin Crafts for Kids:
Pool Noodle Pumpkins and Activities for Kids
15 Pumpkin Crafts and Activities for Kids