This string letters craft and game has been reprinted with permission from the publisher from book 100 FUN & EASY LEARNING GAMES FOR KIDS. I was given a copy of the book to review.

My two oldest kids had fine motor delays. They were very bright and wanted to learn, but most of the learning activities for young kids involved workbooks. I didn't want my kids to be held back, so I had to get creative to find ways to teach them that did not include workbooks. I wish 100 Fun and Easy Learning Games for Kids had been around when they were young! They would have loved the activities and games in this book. And more importantly, they would have been able to do them because although they are educational, they are simple and enjoyable for young kids.
100 Fun and Easy Learning Games for Kids includes chapters on reading, math, science, geography, and more! Not only are there 100 games, each game includes 3 variations so that you can adapt it to your child. The games use everyday household objects, and your kids can help create the game before playing it.
This string letter game actually begins with a fun craft project: making string letters using yarn and glue. The string letters project can actually last for several days as kids work on creating all of the letters of the alphabet. Once the string letters are completed they can be used in several different learning games.
String Letters Craft and Game Ideas
Memorizing the shapes of letters will quickly help your child learn to identify the alphabet. Players create fun, hands-on letters using glue and string. Once ready, they make the perfect material to hang in alphabetical order for even more letter practice.
Focus Skill: identifying alphabetical order
Materials Needed:
Yarn
Scissors
Wax paper
Glue
Container
Sturdy rope
26 clothespins
Directions to Make:
Cut yarn into pieces of various lengths.
Lay out wax paper on a smooth surface for letters to dry on.
Have children dip yarn pieces into glue container: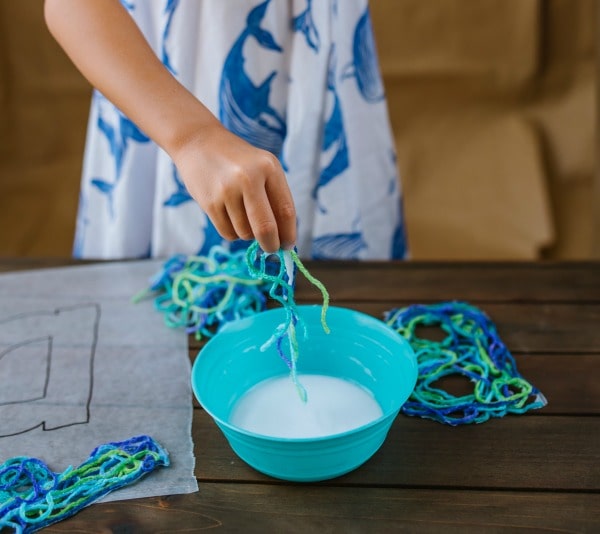 Then shape wet yarn into letter formations on the wax paper.

Repeat until the letter has been filled with string:

Allow yarn to dry before playing the game.
String a long and sturdy rope up in the room and attach clothespins onto it.
Game Ideas Using String Letters
Players work together to place letters in alphabetic order by attaching them to the rope with the clothespins.
As they place the letters, encourage them to name the letters they are attaching to the rope.
String Letter Game Variations
Use letters to create a child's name on the rope.
Use letters to create sight words.
Create a timed challenge to see how fast they can put letters up in alphabetical order.
Note:
This game needs to be created over the course of a few days to allow for drying. Consider starting with the letters in a child's name or a specific grouping of letter formations, like E, L, T, I, H.

You can read more about this amazing learning games book here and you can buy 100 Fun and Easy Learning Games for Kids on Amazon and wherever books are sold.