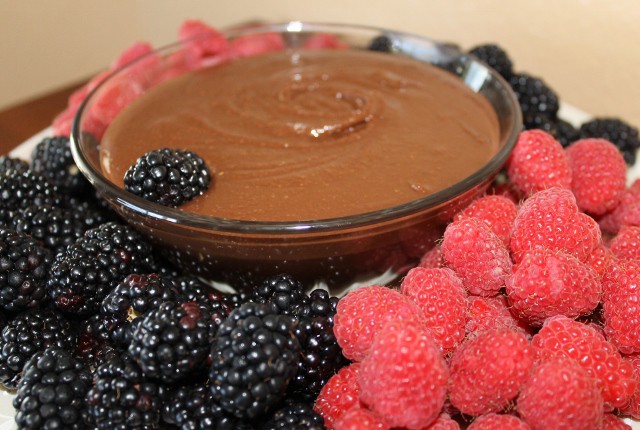 I had an idea for a fun dessert pizza using fruit for the kids and was thinking of using Nutella for the "sauce". I went to the store, looked at the price of Nutella and GASPED! Wow, I am not sure how my friend's afford their addiction! There was another brand that was less expensive so I flipped it over to look at the label and was disappointed to discover dairy, soy, and a chance of gluten. Really? I thought it was supposed to be hazelnuts and chocolate. Even if it was in my budget, my kids couldn't eat it.
So I decided to make my own Nutella…but I forgot to buy hazelnuts. Instead of going back, I decided that if I was going to make a dairy-free, soy-free, no-chance-of-gluten, version, I might as well make a nut-free version too.
If you make nut-free Nutella, doesn't that just leave you with chocolate? Not if you use sunflower seeds. My version doesn't taste authentic. There is a mild sunflower seed taste, but it is a seriously delicious, allergy-free substitute. Oh yeah, I almost forgot: it's frugal too!
My daughter saw me loading up the plate with fruit and said, "It doesn't matter how many berries you put on that plate, You aren't going to make your Nutella look healthy". Good thing I wasn't going for the healthy look. 🙂
Nut-Free "Nutella" Recipe
Use sunflower seeds to create a nut-free "Nutella".
Ingredients
1 cup sunflower seeds, raw, unshelled, unsalted
6 tablespoons cocoa powder
⅔ cup powdered sugar
5 tablespoons safflower oil (or mild-flavored coconut oil)
2 teaspoons gluten-free vanilla
Directions
Spread sunflower seeds in a thin layer on a cookie sheet. Bake at 350 degrees for 30 minutes. Let Cool.
Place roasted sunflower seeds in a food processor or blender and blend until smooth (you should have a "butter"). Approximately 3 minutes.
Add cocoa, sugar, oil, and vanilla. Process until all the ingredients are incorporated and the mixture is smooth and creamy.
Related Posts:
Dairy-Free "Butter Cream" Frosting
This recipe is shared with Made from Scratch Monday, Slightly Indulgent Tuesday, and Allergy-Free Wednesday.