Stuffed Portabello Mushrooms could be an expensive dish, but I am going to share how I kept it affordable.
Often when I share tips for saving money on groceries, someone will mention that it is harder to find coupons on produce. And that is absolutely true. However, just because it is harder does not mean it is impossible. If you sign up to receive coupons from your local grocery stores, you will discover more produce coupons.
Another way that I save on produce is to use store coupons that can be used on any item on produce. Several of our local stores occasionally hand out $10.00 coupons (usually after you have purchased a certain amount of groceries) good on your next purchase. I always use those coupons on produce. I use the pharmacy inside my local grocery store and after I have purchased a certain amount through the pharmacy, they issue me a coupon good for $10.00 off groceries. I reserve those coupons for produce too.
Often I use those $10.00 coupons to stretch my budget to include more organic produce, but occasionally I use them to buy something special. When I received a $10.00 coupon from Raley's the week before Father's Day, I decided to use it to buy portabello mushrooms to make stuffed mushrooms for my husband.I filled the mushrooms with spinach and onions from my garden and topped them with Raley's Italian cheese blend because it was the lowest price cheese in the store. It ended up costing me about $3.50 cents to make 8 stuffed portabello mushrooms.
I reduced the sauce in a cream of spinach recipe to use in the stuffed mushrooms.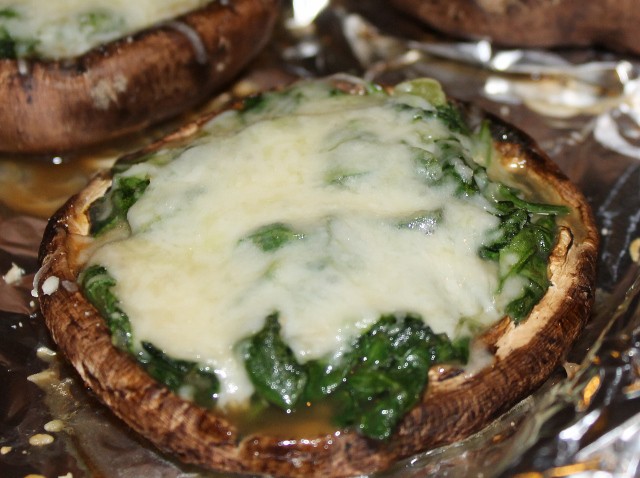 Stuffed Portabello Mushrooms
Ingredients
8 portabello mushrooms, with stems removed
2 tablespoons butter
½ cup diced onions
1 pound fresh spinach, finely chopped
1 teaspoon garlic powder
½ teaspoon seasoned salt (how to make seasoned salt)
¼ teaspoon pepper
¼ cup milk
2 teaspoons cornstarch
1 cup cheese
Directions
Preheat oven to 400 degrees.
Wash and dry mushrooms and remove stems.
Place mushrooms gill side down and bake for 15 minutes.
While the mushrooms are baking, cook onions in butter until the onions are translucent.
Add spinach and spices to the onions and cook over medium flame until spinach is just wilted.
In a small bowl, mix milk and cornstarch together. Add to spinach and cook over medium flame until it the sauce begins to thicken.
Remove mushrooms from the oven. Flip them over and divide the spinach mixture between the mushrooms. Top with cheese. Bake for an additional 15 minutes.
Serve immediately.
I served the mushrooms as a side dish, but they would make excellent appetizers and are filling enough to work as a lunch with a side salad.
This recipe is shared with Real Food Wednesday, Hearth and Soul Hop, and Gallery of Favorites.