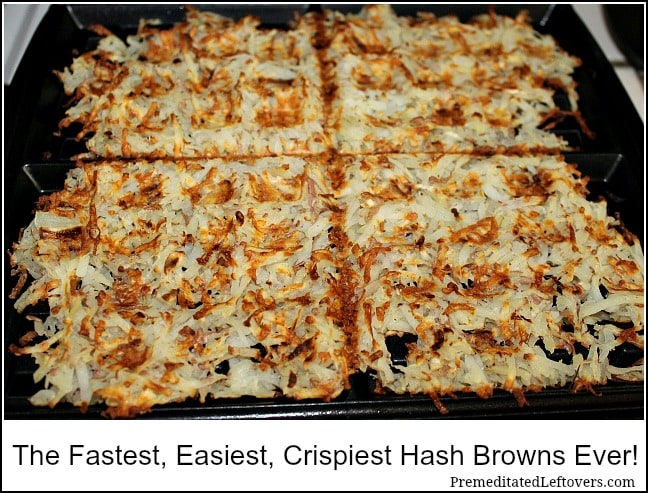 The fastest and easiest method that I have found for making crispy hash browns is appliance dependent. You can still make crispy hash browns without the appliances, but it will take a little longer and involve a little more effort. So what is the fastest, easiest method?
Wash your potatoes, cut out the eyes, but don't peel them. Run the potatoes, onions, and garlic through a food processor to grate them.
Remove the excess liquid from the potatoes by squeezing it out. If you don't have a potato ricer, you can use one of these equally quick ways to remove excess moisture from potatoes.
Place 1/2 cup of seasoned,grated potatoes on each square of the waffle maker. Spread the potatoes out evenly. Close the waffle maker and cook for 8 – 10 minutes. A light may come on after 4 -5 minutes telling you that your hash browns are done, but they aren't. The first time you use your waffle iron to make hashbrowns you will have to eye-ball them to get a feel for how long they take to cook. Unlike waffles, you can peak at the hash browns while they are cooking without ruining them.
If you don't have a waffle maker, spread the hashbrowns out evenly in the largest pan you have. Spreading the grated potatoes thinly over a large pan will ensure that you have crispier hash browns.

The Fastest, Easiest, Crispiest Hash Browns Ever!
Ingredients
2 pounds potatoes
1 medium onion
4 cloves garlic
1 teaspoon seasoned salt (how to make seasoned salt)
¼ teaspoon pepper
Directions
Preheat waffle iron.
Set food processor on the grate setting.
Run potatoes, onion and garlic through food processor.
Squeeze excess liquid from veggies.
Stir veggies together, sprinkle with seasoned salt and pepper and stir to thoroughly combine.
Brush or spray your waffle iron with oil. Place ½ cup of grated potatoes on each waffle square. Close the lid and cook for 8 - 10 minutes until hash browns are cooked through and crispy.
Repeat with the rest of the grated potatoes.
Notes
If you don't have a food processor, you can use a box grater to grate the potatoes. If you don't have a waffle iron, spread the grated potatoes evenly over the largest pan you have and cook over a medium-high flame until the bottom is crisp. Flip the potatoes over and cook until the other side is crisp.
I doubled the recipe and put the extra hashbrowns in the freezer to use on busy mornings. To reheat frozen hash browns, put one square of hash browns in the microwave on high for one minute.
More Potato Recipes:
Scalloped Potatoes
Twice Baked Potatoes
Garlic Mashed Potatoes
Hasselback Red Potatoes
Garlic and Rosemary Red Potatoes
Herb Roasted New Potatoes
Sauted Potatoes with Italian Seasoning
Roasted Potatoes and Recipe for Dry Onion Soup Mix
Savory Mashed Potatoes with Cauliflower and Celeriac