I never buy pumpkin pie spice at the store, because it is so easy to make it at home. Many holiday recipes call for pumpkin pie spice, so I mix up a small bottle of it to use for my baking. Then I can just dip in and pull out a teaspoon as needed.
How to Make Homemade Pumpkin Pie Spice Mix
I use a ration of 1 part cloves, 2 parts ginger, 2 parts nutmeg, and 6 parts cinnamon to make my homemade pumpkin pie spice mix recipe. I have a pumpkin pie spice mix recipe with measurements below. You can double or triple it if you wish.
Once you are familiar with the ratios, you can easily wing it by adding a bit of this and that until your spices equal the quantity the recipe calls for.

Pumpkin Pie Spice Substitute
Make Pumpkin Pie Spice Mix yourself with spices commonly found in your pantry.
Ingredients
1 tablespoon cinnamon
1 teaspoon nutmeg
1 teaspoon ginger
½ teaspoon cloves
Directions
Add the spices to a spice jar. Put the lid on and shake vigorously to mix.
Store the pumpkin pie spice mix in a sealed container in a cool, dark location.
Use as called for in recipes.
Notes
This makes 5½ teaspoons, which is usually more than enough to get me through the holidays.
Recipes that Use Pumpkin Pie Spice:
Pumpkin Pie Spiced Sweet Potatoes
Pumpkin Pie Spiced Roasted Pumpkin Seeds
I grow a lot of my own herbs and spices, but I can't grow them all. When I do buy spices like cinnamon, nutmeg, and cloves, I try to buy them in glass jars, so that I can reuse the spice jars for my homemade spice mixes.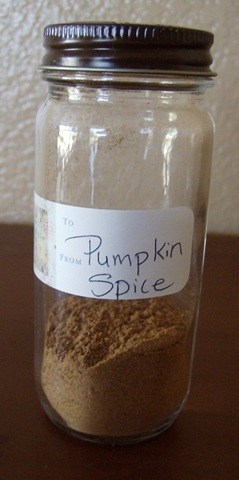 How to Reuse Spice Jars
1. Soak your spice jar to remove the label.
2. Remove the cardboard from the cap (try not to throw it out until after you have traced it).
3. Run the jar and cap through the dish washing machine.
4. If they still smell like spices after being washed, soak them in a bowl of water with a 1/4 cup of vinegar added to it. Then run them through the dishwasher again.
5. Trace the cardboard insert, or if you have tossed it, trace around the outside of the lid.
6. Cut on the inside of the line. Press cardboard into lid.
7. Screw the lid on the jar and label. I use leftover Christmas tags to label the jars.
Do you make your own spice mixes?
More Homemade Spices: