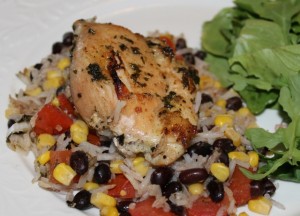 Today I am sharing my recipe for Cilantro-Lime Chicken Casserole at $5 Dinners. I set out to make a different casserole, but I was missing some ingredients and then my spontaneous side took over and the only thing that was the same from the original recipe was that they both contained chicken.
I wish I could say that the "impromptu cook" only emerges occasionally, but if I am honest I must admit that I am disorganized and impulsive and one of those traits often emerges when I am in the kitchen. But sometimes something brilliant (or at least delicious) emerges from the chaos!
As I was providing links for some of the ingredients that I make from scratch in Cilantro-Lime Chicken Casserole, a theme of disorganization emerged. My tutorial for making the fastest beans from scratch ever was created because I kept forgetting to soak the beans for dinner the night before. In my tutorial for cooking rice in a pressure cooker, I admit that the reason I first tried cooking rice in a pressure cooker was because the rice was taking much longer than the rest of the meal for a dinner party. In my chicken broth tutorial, I confess that I didn't realize that I had run out of broth until my dinner guests had arrived and had to improvise a substitute. I could go on, but I think you get the picture. If not, check out the Amelia Bedelia books
at your local library. 🙂
If you are wondering how an impromptu cook can actually create a recipe that can be passed on to others, I reveal my secrets in How an Impromtu Cook Shares Recipes. I will leave you with my most important cooking tip: As long as you smile and are cheerful, your guests will never realize all the catastrophes that are occurring in the kitchen!