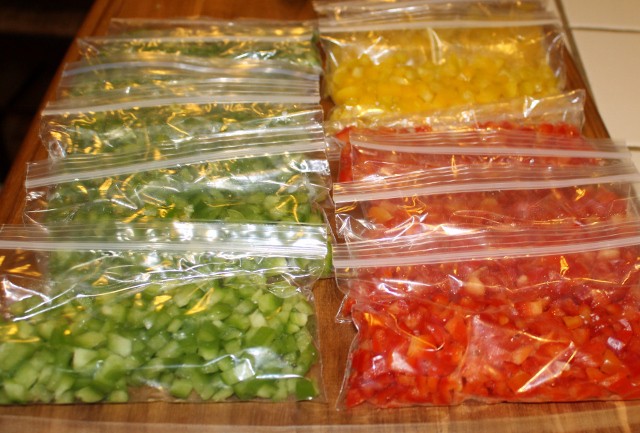 Bell peppers are in season which means they are available for great prices at the stores and might even be available for free from your gardening friends. Take advantage of these inexpensive bell peppers and stock your freezer with diced peppers to get you through the winter when they are outrageously expensive.
How to Quickly Dice Bell Peppers:
My trick for quickly dicing bell peppers is to use my kitchen scissors.
1. Cut off the edges of the bell pepper with a knife.
2. Use kitchen scissors to cut the large pieces of bell pepper into strips.
3. Use the the scissors to cut the strips into smaller pieces.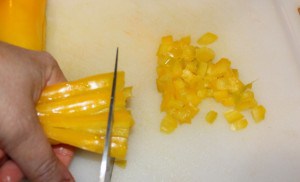 How to Freeze Diced Bell Peppers: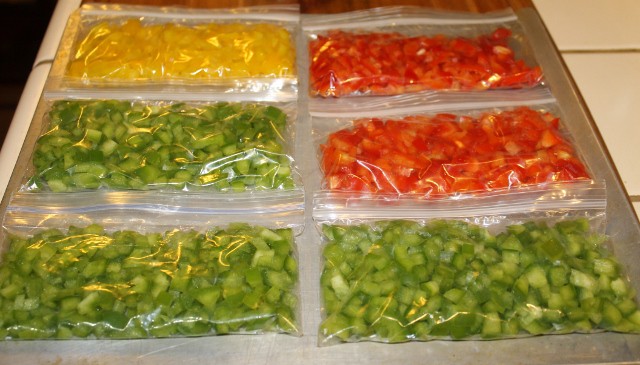 Think about how much bell pepper you usually add to your recipes to determine the best quantity for bulk freezing diced peppers. I often use 1/2 cup of bell peppers, so I freeze diced peppers in that quantity. However, it is easy to open a bag and remove a smaller quantity if necessary.
1. After dicing bell peppers, measure and add 1/2 cup to a snack size ziploc bag.
2. Squeeze the air out of the bag, seal it, and lay it flat on a cookie sheet.
3. After all the diced peppers have been bagged and place on a cookie sheet, place the cookie sheet in a freezer.
4. Once the peppers are frozen, remove them from the cookie sheet. You can now stack them or file them on their ends where ever you have a convenient space in your freezer.
Are you interested in saving money by freezing other vegetables and fruits? Here are a few more tips:
How to Freeze Berries
How to Freeze Diced Tomatoes
How to Freeze Cherry Tomatoes
How to Freeze Lemon and Lime Juice
Yum