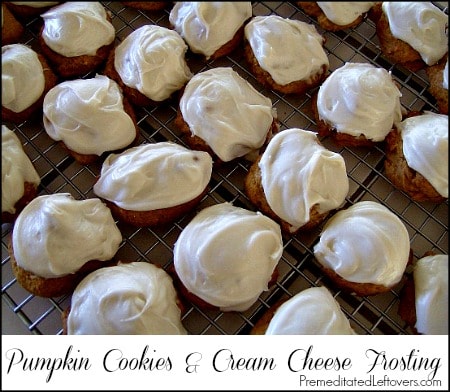 I have a dessert cookbook that says bring the eggs to room temperature on every.single.recipe. This used to really annoy me, because if I opened the cookbook, it meant I had time to cook right then, I didn't have an hour to wait. I don't know if I am just disorganized, impulsive, or a combination of both, but as a homeschooling mom scheduling baking time during waking hours isn't easy.
Bring Eggs to Room Temperature Quickly:
I do realize that having eggs at room temperature works best for some recipes, especially those involving solid fats and yeast, so I came up with a solution. When I find I have a window of time to bake, I pull out the eggs first and place them in a bowl of warm water.
They may not be exactly to room temperature by the time I need them, but they are a lot warmer than when they came out of the fridge! This also ensure that the eggs are fresh. If they sink, they are good. If they float proceed with caution.
Pumpkin Cookies with Cream Cheese Frosting
This recipe always reminds me of fall, pumpkin patches, and good times with great friends! It makes 6 dozen, so you may need to use my tip for baking with a limited number of cookie sheets.
My kids enjoy these cookies without frosting, but I prefer them with cream cheese frosting (if you do not frost them, these cookies are dairy free). When I frost them, I cut the strong flavor of cream cheese frosting with butter to make a milder cream cheese frosting.
Frosted Pumpkin Cookies and Egg Tip
Ingredients
2 cups sugar
2 cups shortening (I use Spectrum Organic)
1¾ cups pureed pumpkin (or 15 oz. can)
2 eggs (room temperature)
2 teaspoons vanilla
4 cups sifted all-purpose flour (or gluten free cake flour mix)
2 teaspoons baking powder
1 teaspoon baking soda
3 teaspoons ground cinnamon
1 ½ teaspoons ground nutmeg
½ teaspoon ginger
Cream Cheese and Butter Frosting
3 oz. cream cheese
3 oz. butter or margarine
2 teaspoons vanilla
1 pound powdered sugar
Directions
In mixing bowl, thoroughly cream together sugar and shortening.
Add pumpkin, eggs, and vanilla and beat well.
In a separate bowl, sift together flour, baking powder, soda, salt and spices.
Add flour mixture to cream mixture and mix well. Stir in raisins and nuts if desired.
Drop rounded teaspoons of dough onto a greased cookie sheet about 2 inches apart.
Bake at 350 degrees for 12 – 15 minutes.
Place cookies on cooling rack to cool.
Cream Cheese and Butter Frosting
Cream cream cheese, butter, vanilla, and powdered sugar together until fluffy. Add a bit of milk or more sugar to achieve desired consistency.
Spread on cooled cookies.
Are you an impulsive baker or do you plan ahead?
Pumpkin Recipes:
For more kitchen tips, visit Kitchen Tip Tuesday.
Yum