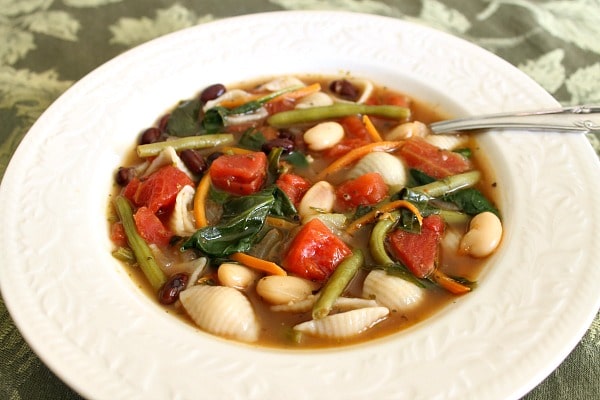 Vegetable Garden Minestrone Soup Recipe
An Olive Garden Minestrone Soup Copycat Recipe Using Fresh Vegetables.
I make this minestrone soup recipe a lot during the summer. I make it primarily because my family loves this Olive Garden Minestrone Soup Copycat recipe, but I also make it because it is  "a bit of this and a bit of that" soup recipe which makes it perfect for using up the odd vegetables and herbs from my garden. My recipe is based on Copy Cat Olive Garden Minestrone Soup . The original minestrone soup recipe really does taste like Olive Garden's minestrone soup and I highly recommend it. Although I love the original, I cannot help modifying the recipe during harvest season to add more fresh spices and garden vegetables.
Kitchen Tips:
If a recipe calls for you to boil the vegetables in liquid for more than ten minutes, replacing frozen or canned vegetables with fresh vegetables will not increase the cooking time (but does increase the prep time). Most fresh vegetables will cook in boiling liquid in less than ten minutes. Some vegetables, like potatoes will need to be cut into bite size pieces to cook in that amount of time. If a recipe does not require 10 minutes of boiling, you can steam your raw vegetables in a double boiler for 7 – 10 minutes before adding them in place of canned or frozen in your recipe. Since this recipe calls for a total of 30 minutes of boiling, I do not have to make any adjustments for the fresh vegetables.
Here are tips for substituting fresh herbs for dried herbs in recipes.

Vegetable Garden Minestrone Soup Recipe
Ingredients
3 tablespoons olive oil
1 cup onion, minced
½ cup zucchini, chopped
½ cup fresh green beans, cut
1 stalk celery, minced
4 cloves garlic, minced
7 - 8 cups Vegetable Broth
2 (15 ounce) cans black beans, drained
2 (15 ounce) cans great northern beans, drained
4 cups fresh tomatoes, diced (or 2 cans with juice)
½ cup carrots, julienned or shredded
2 tablespoons fresh parsley, minced (or 2 teaspoons dried)
3 teaspoons fresh oregano, minced (or 1 teaspoon dried)
½ teaspoon ground black pepper
2 teaspoons fresh basil, minced (or ¾ teaspoon dried
¾ teaspoon fresh thyme
3 – 4 cups fresh baby spinach (or frozen spinach thawed)
¾ cup small shell pasta* or spaghetti *broken up in small pieces
Directions
Heat olive oil over medium heat in a very large soup pot. Add onion, celery, garlic, green beans, and zucchini and sauté in the oil for 5 minutes or until onions begin to turn translucent.
Add vegetable broth tomatoes, beans, carrots, and spices to the pot. Bring soup to a boil, then reduce heat and allow to simmer for 20 minutes.
Add spinach leaves and pasta and cook for an additional 10 minutes or until pasta is al dente.
Notes
* You can use gluten free pasta to make this soup gluten-free
More Soup Recipes:
I usually fall back on soups and chili to use up the odds and ends; my mother-in-law uses up the remnants in hash. Do you have a favorite "a bit of this and a bit of that" recipe?
Yum