You can save money by buying nuts in bulk when they are on sale and freezing them for future use. Use the tips for how to freeze nuts below and you can save money on your baking expenses.
A couple times a year I stumble upon a great sale on nuts. Usually, they are in the manager markdown section at the grocery store, but sometimes I find a great sale on nuts in the bulk food section or discover a mega-find at the Farmer's Market. Where ever I find my sale, I always buy as many nuts as my budget will allow. When I am checking out, the cashier will often ask me how I can use them all before they go rancid. But I have never had any nuts go rancid because I always freeze my bulk nut purchases as soon as I get home.
Nuts that can be frozen:
Pecans
Walnuts
Almonds
Cashews
Macadamia Nuts
Brazil Nuts
Pistachios
Chestnuts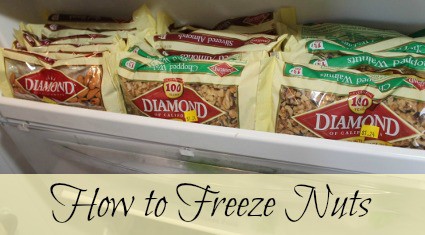 How to freeze nuts:
Nuts are very easy to freeze. If they came in a sealed bag, you can freeze them in that bag. If not, place nuts in a freezer bag and seal.
You can freeze nuts whole, chopped, sliced, slivered, or diced.
You can freeze nuts in the shell if you crack the shell first to allow the nutmeat room to expand. I prefer to freeze my nuts in a ready to use form.
You can freeze raw nuts, roasted nuts, and/or salted nuts.
You can freeze nuts for up to 6 months.
How to use frozen nuts:
You can add frozen nuts directly to recipes that will be cooked or baked and they will thaw as the dish is cooking.
If you are going to use nuts as a topping on yogurt, cereal, or ice-cream you will want to thaw them first so they will not be so hard. They thaw very quickly on the counter. Just make sure there is no condensation inside the package before allowing them to thaw. If there is, then remove them from the packaging and lay them flat on a towel to thaw.
More Frugal Grocery Tips: