We have created a list of Stocking Stuffers for Toddler Boys to make your Christmas shopping a little easier.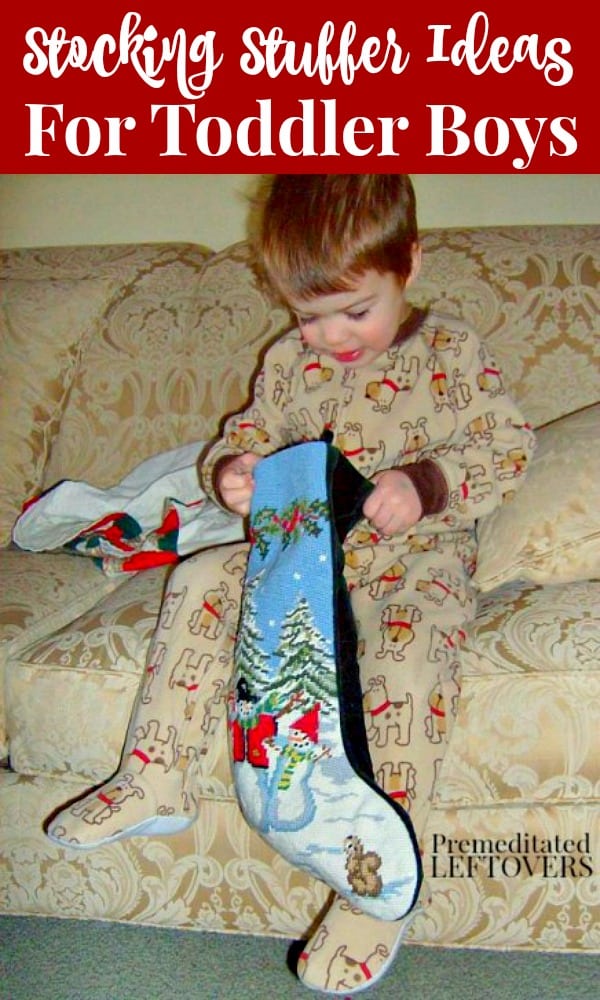 Are you looking for fun items for your little guy's stocking? It can be a challenge finding small enough toys to fit into stockings but are still safe to play with. Let's face toddlers are still sure to put most of their toys in their mouth. Here is a fun list of stocking stuffer ideas he will play with for hours.
Stocking Stuffers for Toddler Boys
Tech Too Tech Set includes kid-friendly versions of three of the most popular and iconic grown-up devices: smartphone, t.v. remote, and keys. I know when my kiddos were this age all they wanted was Daddy's Remote and my Keys.
The smartphone has 18 touch sensitive icons, each with its own sound and speech. Light flashes with each sound. The remote has 4 game modes to choose from including learning the numbers 0-9 in English, Spanish and French. The key remote has three colorful keys come in different shapes.
Intended for ages 18 months and up.
This little fishing pole would look cute hanging out of their stocking. This toy set comes with one magnetic fishing rod and three underwater bobbing characters. Suitable ages 24 months and up.
This would be a great gift split into two. Add the hammer and saw to the stocking and wrap the gift for a part two gift. This 9 piece set includes a hammer, screwdriver, saw, nails, screws, blocks and a drill that vibrates. They are made of high-quality fabric.
Colorful and fun dinosaur toys with wheels. Set of 4 certified bpa free, lead-free, and phthalate free, these fun dinosaur vehicles are built to last!
Focus-free binoculars designed specifically for little kids. Perfect for studying plants and animals. These Kid-sized binoculars feature large comfy eyepieces—more than 3 times the size of ordinary eyepieces—with perfect-fit goggles and placement guide. Includes binoculars, with easy-placement goggles, 2x magnification, and breakaway neck strap
When all 9 wooden shapes are stacked properly, it shapes into a rocket. This STEM toy fosters learning while aiding in shape and color recognition and encouraging fine motor skills.
Stack the different colors and numbers, Each one provides sensory stimulation and encourages motor skill development when played with and connected together; light-up cat flashes with light and sounds.
These are a timeless classic that all my kids have enjoyed playing with. There are 12 colorful beads in different shapes. This helps develop fine motor skills and hand-eye coordination.
Some toddlers get overwhelmed with having too many new gifts at one time. As a parent, we feel bad giving one child one item when we give the others several things. Even if doing so is beneficial to the child. One solution is to stuff the stocking with one set of toys that all go together. You can fill the stocking with these blocks and then your child can happily play with them while his siblings are going through their stockings. There are 10 Hand-Sculptured, Embossed Blocks With Unique Designs (Animal Shapes & Numbers) On Each Side. They can be stacked, squeezed, or chewed.
More Stocking Stuffer Ideas
Stocking Stuffers for Toddler Girls