If you want green onions in your garden, this guide on how to grow green onions will help with everything from planting onion seeds or sets to harvesting green onions.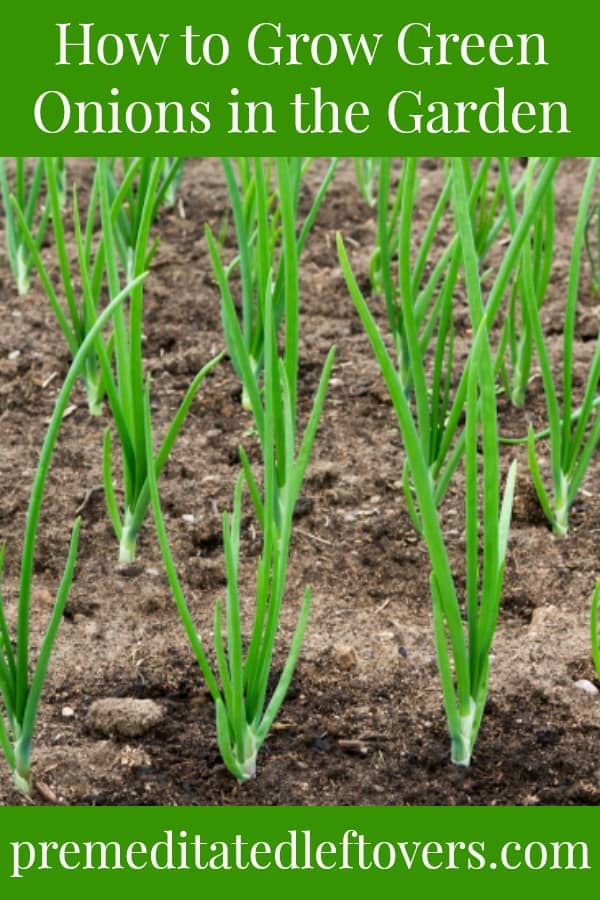 Green onions are such an easy plant to grow, and they can be used in so many ways. Whether you want to add them to soups, salads, or use them as a baked potato topper, you can appreciate the fact that the entire green onion plant is edible, giving you good bang for your buck! If you are considering growing this flavorful plant, look at the tips below on how to grow green onions.
How to Grow Green Onions
How to Plant Green Onions from Seed:
Starting your green onions from seed is an option; however, it is advised you plant seeds directly in the soil as opposed to starting the green onion seeds indoors. Plant seeds directly into the soil once temperatures have hit a steady 70 degrees and all threat of frost has passed. Plant seeds about ½ an inch deep and cover with loose soil. You can get away with planting seeds closer together, with about an inch apart being sufficient.
How to Plant Green Onions from Seedlings:
Green onions can also be planted from "sets" which is the name of the seedlings ready to go right into the ground. These are ideal for people with shorter growing seasons or who lack the patience for planting from seed. Just like your seeds, do not plant until after the last frost has passed and temperatures are at a constant 70 degrees or higher. Allow for the same type of 1-inch spacing. You will find that green onions don't spread out much and will do fine if planted closely together.
When planting your onion sets, plant each set about one each deep and cover with loose soil. Mixing some compost or fertilizer into the soil will help the green onion bulb thrive and is suggested as well.
Green Onion Planting Tips:
As mentioned, you should plant your green onions about one inch apart. Be sure you are using nutrient-rich soil that is loose and never compacted. Green onions will do just fine if they aren't in full sun. If you can choose a space that gets at least 4-5 hours of sun a day they will survive. A little mulch around the base of the plant can help keep the edible onion bulb cool and prevent drying out.
You can keep your green onions hydrated by supplying 2 inches of water per week, more when the weather is extremely dry.
How to Grow Green Onions in Containers:
If you are limited on space, planting green onions in a container is an excellent idea. Use a large flower pot at least 12 inches wide and 12 inches deep per 3 to 4 plants. As you can see, you can grow quite a few green onions even in a single pot. Be sure your pot is well draining, so that the bulb never sits in water which can lead to rot.
In extreme heat, you may need to water your container more frequently. Check your soil regularly and keep moist.
Green Onion Plant Care Tips:
There are a few things you need to keep in mind when growing green onions. The care of the onion bulb should be your priority. You want to keep it cool and moist. A great way to do this is to check the soil regularly, offer water when it dries out, and use plenty of mulch around the base of the plant. All of these tips can help keep moisture in and keep the soil cool.
One of the nice things about green onions is they don't tend to attract many pests. Should you find any pests using your green onions at their all you can eat buffet, you do have options. Remove these pests by hand and then use a chemical-free pest solution like a mixture of dish soap and water generously sprayed on the plant.
Your green onion plants will thrive if fed liquid food. Feed them a dose (according to package directions) when you plant and offer the food again in 4 weeks.
When to Harvest Green Onions:
This is the best part of the green onion growing process! When your green onion foliage is about 6-8 inches tall, it typically means your bulbs are ready to be harvested. Green onions will always be best when harvested while they are still tender. Waiting too long can lead them to dry out and become tough.
How to Harvest Green Onions
You can harvest your green onions a few different ways. You can dig them up from the bulb and use the entire plant, or you can trim the foliage to use alone (like scallions) leaving the bulb in place and allowing the plant to continue to grow.
Did you know that you can regrow green onions from the remainder of the bulb? When cutting your onion bulb leave about ½ an inch above the root. You can then replant this onion segment and start the growing process all over again.
Once harvested you can use your green onions all sorts of ways. They are excellent to use in salad dressings, marinades, and soups. Add them to baked potatoes or use them to season meat and fish. Should you grow more than you can consume, freezing the scallions is always an option.
Try these tips on how to grow green onions and see how they can help you produce a successful crop that you can be proud of!
More Gardening Tips: