If you need a way to deter rabbits from eating your flowers, try this organic rabbit repellent recipe. It uses garlic and red peppers to repel the rabbits naturally without damaging your plants.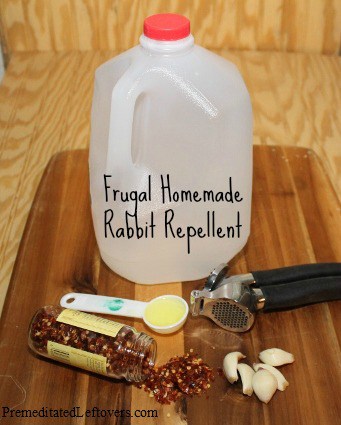 If you have had any contact with me in the last three years, you know that I struggle with rabbits. I have annuals hanging in baskets far out of reach of the rabbits and my vegetables growing safely behind chicken wire, but I really wanted to see some bulbs come up out of the ground unobstructed. When I found bulbs on sale for $1.00 a bag at Walmart last fall I decided to give them a try. As you can see from the picture below, it didn't start out so well! Then I discovered how to make a natural rabbit repellent at home using common household ingredients.
How to Make Rabbit Repellent
You just need a couple of items to make this DIY rabbit repellent: garlic, peppers, and dish soap and an empty milk jug. Use this organic rabbit repellent recipe to deter rabbits from eating your flowers. Reapply after a rain.
DIY Rabbit Repellent Recipe
Items needed:
empty milk jug
5 garlic cloves
1 teaspoon crushed red peppers
1-gallon water
1 tablespoon dish soap
Directions:
To make the repellent fill an old milk jug with water, add 5 crushed garlic cloves, a teaspoon of crushed red peppers (you can save a packet from the pizza delivery for this) and 1 tablespoon of dish soap.
Shake well; then let it sit in the sun for a day or two to make sure the water is saturated with the flavors and smells.
Shake well, then spray or pour on the plants that you don't want the rabbits to eat.
I had to reapply the rabbit repellent once a week for a couple of weeks to convince the rabbits that my tulips were never going to taste good again. With my other bulbs, I sprayed them with the natural rabbit repellent as soon as they started to poke through the ground and then reapplied the repellent once a week and after it rains.
Flowers before I started applying my homemade rabbit repellent:
Flowers that were treated with the homemade rabbit repellent:
The tulips that have been treated with the homemade rabbit repellent survived unscathed!
I have even had to treat flowers like marigolds and sunflowers that rabbits are not supposed to like with my homemade rabbit repellent. I find that I have to reapply this homemade rabbit repellent a couple of times each spring. Once the rabbits get a taste of this spicy hot rabbit deterrent, they stick to the grass for the rest of the year. Since this natural rabbit repellent isn't made with harsh chemicals I feel comfortable reapplying it several times each spring. Here are more
natural ways to repel rabbits from your garden
.