These tips for growing Swiss chard will help you care for your chard plants from seed to harvest.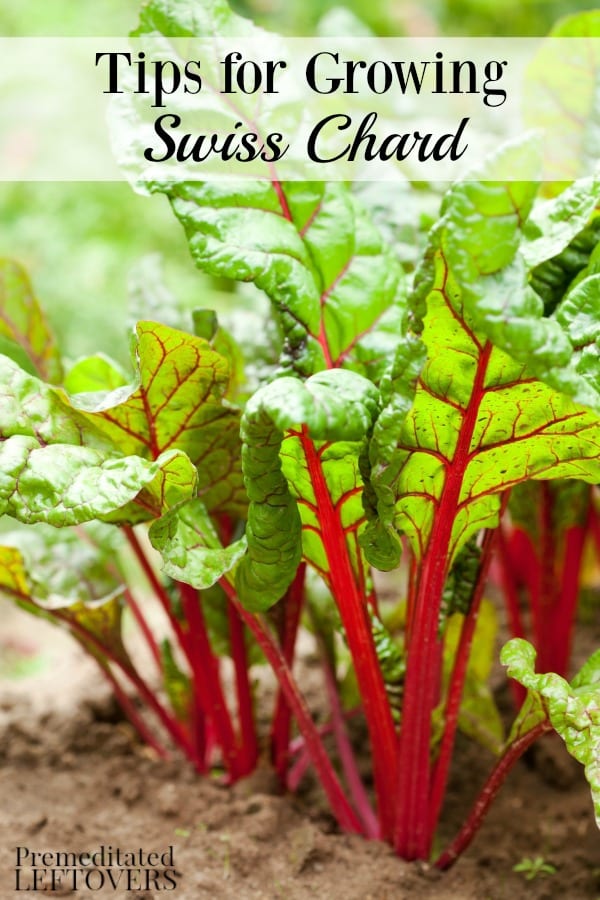 Swiss chard is the perfect leafy green as it is full of vitamins, minerals, and fiber your body needs. It is easy to grow in your garden, or even in pots if you choose. If you are considering growing Swiss chard this season, take a look below at tips for growing Swiss chard in your garden. This leafy vegetable is perfect for starting in the cooler months of spring and enjoying all summer long. Here is how you can get started!
Tips for Growing Swiss Chard in Your Garden
You can buy a package of Rainbow Swiss Chard seeds and enjoy a variety of colored Swiss chard in your recipes.
How to plant Swiss chard seeds:
You will find that Swiss chard can withstand frost and is quick to mature. Because of its hardiness and fast growing qualities, you don't need to start your Swiss chard seeds indoors. If you still think you want to, do so 3-4 weeks before the last frost of the season.
Should you wish to plant directly outdoors, pick a spot that gets at least 6 hours of sun per day. Swiss chard does best in soil that is well drained and never muddy. When planting, sow seeds ½ in deep and 2-3 inches apart. Rows should be at least 18 inches apart as the plant will need plenty of room to grow and you need plenty of room to harvest.
Swiss chard can also be planted in containers if you want a container garden or are limited on space. Keep your plantings to 1-2 plants per 12 inch (in diameter) flower pot. This way, you can be sure your plant has plenty of room to perform for you.
How to care for Swiss chard seedlings:
You will find that Swiss chard seedlings need to be thinned out. A good rule of thumb is to wait about 2-3 weeks until you can determine the stronger seedlings from the week. You can then start thinning out, removing weaker seedlings to provide more room for the others.
Be sure the soil for your Swiss chard seedlings is moist at all times, but never muddy. You should aim at watering them 1 inch per week, more if temperatures become extreme. A layer of compost or mulch around the base of the plant can help it retain moisture so that even in extreme heat, the plant stays hydrated.
General tips for producing a good Swiss chard crop:
Bugs don't tend to bother Swiss chard plants, but rabbits might. Place a light netting over your plants to keep animals from nibbling on them, or be sure you have fencing that can help deter them. You will also find that Swiss chard generally doesn't need fertilizing. If you think your plants are maturing slowly, you can give them a boost with a liquid garden fertilizer.
When and how to harvest Swiss chard:
You can harvest the outer leaves as soon as you need them. When the leaves get about 5-6 inches in length, go ahead and cut them down to the base of the plant. The more you harvest throughout the season, the more your plant will produce for you.
Swiss chard can be cooked like spinach, either steamed or in casseroles. It can also be enjoyed fresh just as it is. So why not try growing some Swiss chard in your garden this season? It is an easy to grow green that the whole family will enjoy.
More Gardening Tips
More Vegetable Growing Tips
This article on growing Swiss Chard was published on February 22, 2015. It was updated on March 11, 2020.