I have taken to running to the thrift store at least once a week to see what I can find to repurpose in a new way. There is always something that has potential to become something beautiful, something other than what it was originally intended to be. This summer we have spent much time outdoors fixing up the garden, kids play spaces, and adding touches here and there.. It was no surprise to met that this old lamp wanted to be converted into a piece for the garden, I was lucky enough to also find a pretty bowl at the same time and voila… a new birdfeeder was formed. This fun project added a slightly whimsical touch to the yard and offered another dining option to my backyard bird friends.
How to Make a Sunflower Bird Feeder
Supplies needed:
lamp
large bowl or plate
spray paint
acrylic paint
scissors
Directions:
My fluted plate reminded me of a sunflower so I went with it. Use a sponge or dauber paint brush to fill in your flowers center, leave paint thick so that it has texture, allow to dry and spray with 2 coats of clear to keep paint from chipping off and mixing with the bird food.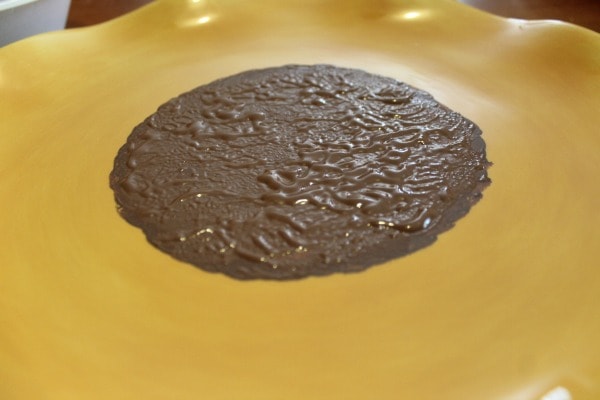 Cut cord close to the base of your lamp.
Take your lamp apart, either take a picture or lay your pieces out in the order you remove them. Saving all bolts and washers.
Remove cord from lamp.
Replace all pieces and tighten securely.
Spray paint lamp with 2-3 coats of paint until thoroughly covered, allow to dry.
Coat rim of light socket with a thick layer of the e6000 glue, press center of your bowl or plate onto glue. While it is drying you may want to prop it up to keep it in place, one it is dry the glue will hold it securely.
Set feeder out in your yard or garden and fill with seed, enjoy the flock of feathered friends as they dine!
More DIY Bird Feeders
How to Make a Bird Feeder from an Upcycled Candle Holder
How to Make a Bird Feeder from an Oil Burner: Dollar Store DIY
More Backyard Nature Fun