What is better than coffee with your doughnuts? Coffee in your doughnuts! These Gluten-Free Mocha Fudge Doughnuts are seriously good doughnuts. I feel that I should point out that we don't eat doughnuts for breakfast. In our house, doughnuts are considered a dessert. With good reason!
I am still having fun with my Sunbeam Donut Maker
that I bought last week. Too much fun! Once again I included directions for both the donut maker and my Norpro Donut Pans
. The donut maker creates smaller doughnuts, so it makes more then the dough nut pans

Gluten-Free Glazed Mocha Fudge Doughnuts
Ingredients
½ cup white rice flour
½ cup tapioca flour
¼ cup potato starch
¼ cup unsweetened cocoa powder
¾ teaspoon xanthan gum
½ cup + 2 tablespoons sugar
2 teaspoons baking powder
1 teaspoon vanilla
¼ teaspoon salt
1 egg, beaten
½ cup softened butter (I used coconut oil)
¼ cup milk (I used almond milk)
½ cup coffee
Mocha Fudge Glaze
1½ cup powdered sugar
2 tablespoon coffee
2 tablespoon butter, softened ( I use Earth balance to make this dairy free)
2 tablespoon cocoa
1 tablespoon milk ( I use almond milk)
¼ teaspoon vanilla
pinch salt
Directions
If using the oven preheat oven to 350 degrees. Grease doughnut pans.
In a medium bowl, mix flours, potato starch, cocoa, xanthan gum, sugar, baking powder, and salt.
Add egg, milk, coffee butter or oil and vanilla. Beat with an electric mixer on low speed just until mixed.
Fill the donut pans ⅔ full. Bake at 350 degrees for 12 – 15 minutes or until tops are brown and an inserted toothpick comes out clean. Place the donut pans on cooling rack and let the doughnuts cool in the pans.
Glaze Directions:
Add butter, coffee, milk, vanilla, cocoa, and sugar to a small bowl. Mix well to ensure sugar is completely dissolved.
Place wax paper or baking sheet beneath cooling rack.
Spoon glaze over doughnuts.
Notes
If using a donut maker, fill the bottom portion until it is just full. Close the lid and cook for 7 minutes or until the donuts are brown. Remove the doughnuts and allow them to finish cooling on a cooling rack.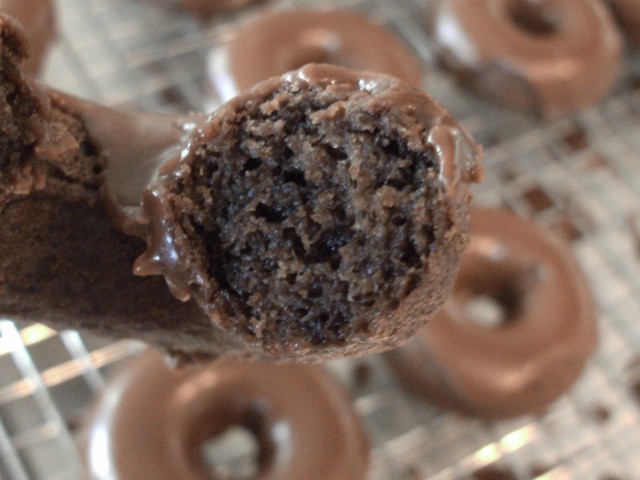 All this doughnut needs is a cup of coffee for dunking.
More Gluten-Free Doughnut Recipes:
Gluten-Free Chai Spiced Doughnuts
Gluten-Free Chocolate Mint Doughnuts