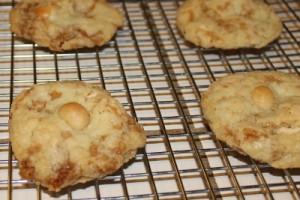 My kids are always full of good ideas. We were discussing flavor combinations for cookies and they came up with white chocolate, macadamia nuts, and toffee. My idea of cranberries was nixed in favor of toffee which they deemed superior in every way.
I didn't say my kids were full of healthy ideas.
What I should have said is they are full of delicious ideas. Because the cookies were really delicious!
Once they are done offering suggestions for flavors, they abandon me leave me alone to work out how to make their ideas a reality. I decided to go with a crunchy cookie this time. They came together quickly and easily.

Gluten-Free White Chocolate Toffee Macadamia Nut Cookies
Ingredients
¾ cup rice flour
½ cup tapioca flour
¼ cup potato starch
½ teaspoon baking soda
½ teaspoon guar gum
pinch of salt
¾ cup sugar
½ cup shortening
1 egg
1 teaspoon vanilla
1 cup macadamia nuts, halved
¾ cup white chips
½ cup toffee pieces (my toffee recipe)
Directions
Preheat oven to 350 degrees. Grease cookie sheets.
In a large bowl, combine the flours, potato starch, guar gum, baking soda, and salt.
In a small bowl, cream the sugar and shortening.
Add the egg and vanilla to the flour mixture. Mix until thoroughly combined.
Add nuts, white chocolate, and toffee pieces to the cookie dough and mix thoroughly.
Drop by tablespoon onto greased cookie sheet. Bake at 350 degrees for 7 - 10 minutes or until they begin to brown.
Remove to a cooling rack to cool.
More Gluten-Free Cookie Recipes:
I am sharing these cookies at Gluten-Free Wednesdays and Allergy-Free Wednesdays.