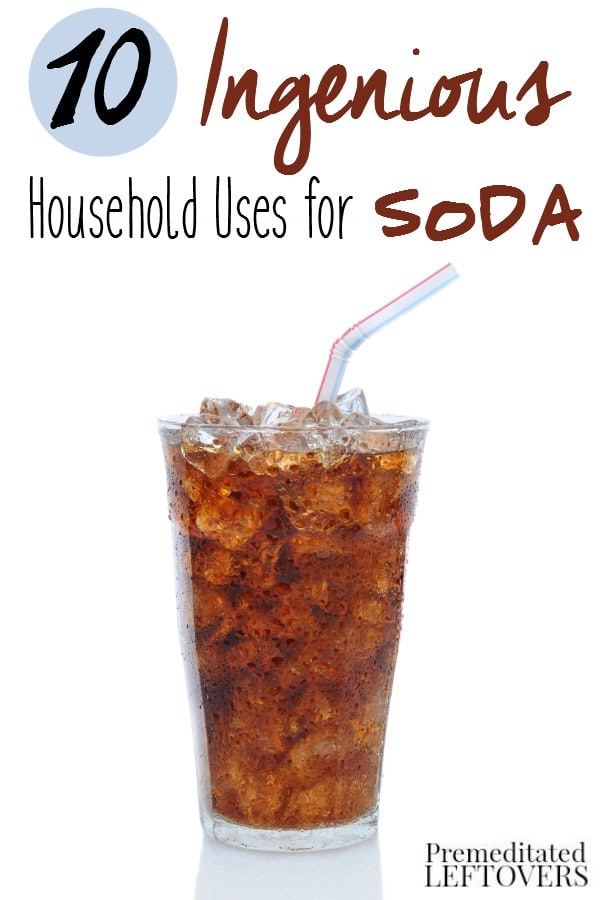 It's a guilty pleasure. It's a treat. Did you know soda pop has other household uses that come in handy? So here's to a list that gives you an excuse to keep a can of soda in your fridge with these 10 household uses for soda pop.
10 Household Uses for Soda Pop
1. Clean batteries. Keep your car in good running shape by using some soda pop to clean the battery. Just pour a small amount over corrosion and let it sit. Be sure to use a damp sponge to clean off the sticky leftovers.
2. Remove gum. At least once in a child's life, they will get gum or some other incredibly sticky residue in their hair and you will be left trying to figure out how to remove it. Don't grab the scissors just yet! Pour soda in a shallow bowl and have your child sit with their hair in it for a few minutes and then shampoo.
3. Clean your toilet and drains with soda. The bubbles in it will help remove any gunk and all that will be left to do is swish the bowl and flush or pour some hot water down that drain.
4. Keep flowers fresh. Pour some clear soda (one of the lemon-lime sodas like Sprite or Sierra Mist) into your vase with fresh cut blossoms. They will last a little longer because the sugary water will feed them and help them stay perkier.
5. Ease stomach pain. If you are having stomach troubles, flat pop can help you ease it. A cola soda (like Coca Cola or Pepsi) works the best.
6. Compost. If you have a green thumb and compost, consider adding a can of soda to your mix. The acids and sugars in it will help feed your plants and they will keep slugs and other pests away.
7. Remove grease stains. Soda can be a laundry miracle. If you have greasy clothing, wash it all in one cycle and add a can of clear soda to it to help remove the grease.
8. Stubborn nuts and bolts will come loose if you soak them in soda pop. If the bolt is attached to something else, try soaking an old rag in soda and wrapping it up on the bolt.
9. Cleans pots and pans. Restore your favorite pot to it's former glory by pouring a can or two of soda in it and simmer on low heat for 45 minutes to an hour. Scrub the post right away and you will have it looking just like new.
10. Plump up dried raisins. With holiday baking season on the way, you may enjoy this tip: Soak raisins in cola to make them big and plump. The cola will also make them super sweet and add an extra layer of flavor.
More Thrifty Household Hacks: