It's that time of year when we need to pull out our Spring Cleaning Checklists and go through our home room by room cleaning our whole house out.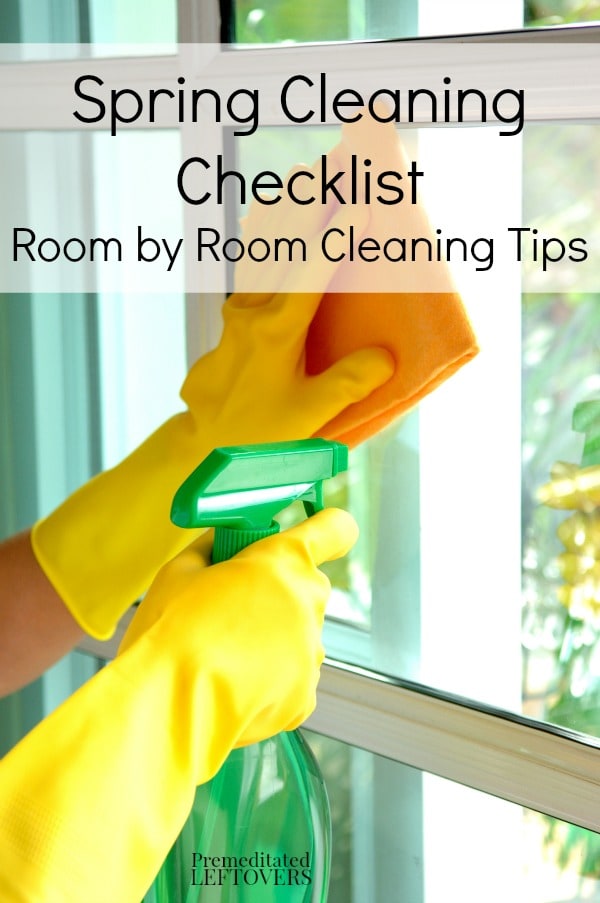 Spring is on the horizon, and you may be itching to get your home spotless. Spring cleaning is a great way to deep clean your home and take care of the spots that have been neglected during the winter months. However, many people are unclear about how to spring clean room by room. Take a look below at some helpful spring cleaning tips and use the Spring Cleaning Checklist to help you tackle each room more thoroughly and effectively.
Before you begin spring cleaning your home, you may want to begin by decluttering your house and organizing your home. Then when you are done with your spring cleaning, you will have thoroughly deep cleaned your entire house.
During this process, we will work our way through each room covering all of the spots that may need your attention. You can follow this list as it is written or skip around to the spaces that you feel need your attention first. Let's get started!
Spring Cleaning Checklists Room by Room Cleaning Tips
Spring Cleaning your Family Room
1. Remove all décor from shelves and dust thoroughly.
2. Dust and clean the glass on all hanging pictures and picture frames.
3. Remove all sofa cushions and vacuum, fluff and replace pillows and vacuum as well. If your cushion covers are removable, remove and wash before replacing. If not, you may spot treat them for stains.
4. Dust all appliances, remove any you are no longer using and store away.
5. Remove all area rugs and shake out. Vacuum all carpets, moving furniture so you can access under all of the pieces.
6. Wipe down all baseboards. Wash walls with a simple mixture of warm water and Murphey's Soap.
7. Dust all plants.
8. Dust all ceiling fan blades. Remove and wash light covers if needed.
9. Dust all light fixtures, replace bulbs if needed, and wipe down light switches.
Spring Cleaning the Kitchen
1. Remove all items from cabinets and wipe down the inside with warm water and vinegar. Allow the cabinets to air out. Reconsider items as you return them to the cabinet. Donate what you no longer use.
2. Wipe down the outside of cabinets to remove grease and grime. Pay special attention to the handles.
3. Dust light fixtures. Remove and wash light covering if you need to.
4. Pull large appliances away from the wall if possible to thoroughly sweep and mop the floor. Scrub well in between tiles to clean the grout.
5. Remove all items from the refrigerator. Discard what is no longer edible. Wipe down the entire inside with hot water and soap. Wipe clean and replace the items. Repeat on the outside of the fridge.
6. Run the self-cleaning option on the oven or clean yourself. Pay special attention to the outside as well, by removing the knobs to give it a good scrub as well as giving some attention to the grates.
7. Clean the microwave inside and out.
8. Wash all baseboards and wall areas thoroughly.
9. Remove silverware and other small items from drawers. Wipe out and return items to area.
More Tips for Deep Cleaning Your Kitchen.
Spring Cleaning the Bedrooms
1. Dust all furniture pieces thoroughly.
2. Move the bed (now is a great time to flip your mattresses as well) and vacuum under it. Return the bed to its place and vacuum over the mattresses as well.
3. Wash pillows and duvets base. Replace sheets and pillowcases.
4. Wash all baseboards as well as walls with a hot water and soap solution.
5. Dust ceiling fans and remove light coverings so you can thoroughly clean them.
6. Remove clothing items from the closet. Donate what you no longer need. Clean out the closet well removing any dust and debris. Return clothing.
7. Do the same with drawers. Remove items, donate what you no longer need, wipe out drawers, and replace.
8. Dust and clean all hanging pictures and décor.
9. Deep clean or spot clean carpets as needed.
Spring Cleaning your Bathrooms
1. Deep clean the shower with appropriate cleaners for your tile. Get in between tiles with a toothbrush to really clean the grout. Don't neglect the shower ceiling.
2. Remove shower head and soak in a lime away product. Clean other shower fixtures with an appropriate cleaning product until they are nice and shiny.
3. Remove shower curtain and launder. Replace the shower liner if needed.
4. Discard any old or empty bath product containers. Wipe down any bathtub storage fixtures with bleach.
5. Remove toilet lid so you can thoroughly clean all the way around the bowl. Clean down to the base of the bowl and don't forget the handle and back of bowl as well. Let some solution soak in the bowl before scrubbing the entire inside. Replace any automatic bowl cleaner you may have added.
6. Remove all toiletries from vanity drawers and cabinets. Wipe clean and replace. Discard any unused or empty containers.
7. Wash all storage containers out.
8. Clean all mirrors and light fixtures. Replace any bulbs as needed.
9. Launder all bath mats or toilet coverings.
10. Mop floors and wipe clean baseboards.
More Tips for Deep Cleaning Your Bathroom.
Spring Cleaning the Play Areas
1. Clean all toys with hot water and bleach if possible.
2. Remove all toys from shelving or baskets and wash clean before returning.
3. Spot treat flooring or deep clean the carpet and area rugs.
Cleaning all the other rooms
1. Wash windows thoroughly. Remove windows if possible to clean the inside of the window well.
2. Remove and clean all blinds and curtains. Curtains can be laundered while blinds can be dusted and wiped clean.
3. Spot treat any upholstered items that can't be laundered.
4. Spot treat any wall chips with matching paint.
5. Replace air fresheners or sachets in all rooms with fresh ones.
6. Wipe vents clean and sanitize commonly touched areas such as handles and switches.
Hopefully, these tips will help you tackle each room when you start your spring cleaning this season! When you give these spring cleaning tips a try, you are sure to do a thorough cleaning job that will leave your space feeling fresh and inviting.
You can print out a Spring Cleaning Checklist Room by Room Printable by clicking on the image below or by clicking here.
Printable Spring Cleaning Checklist
Don't forget to Spring Clean the 10 Neglected Areas or your home and use these time-saving spring cleaning tips to speed up your spring cleaning this year.
More Spring Cleaning Tips
Tips for Organizing Your Home for Spring Cleaning
Tips for Decluttering Your House for Spring Cleaning
Eco-Friendly Spring Cleaning Tips