Instead of trying to deep clean, declutter, and organize all at once, break it down into steps. Start by using these tips for decluttering your house.
Spring is the perfect time to deep clean, organize, and declutter your house. All three seem to rely on the other to get a thorough job done, so it is important you cover all three bases in order to get the most function out of your space. Let's chat about how to declutter your house, thoroughly tackling each room until the job is done. Here is how you can get started decluttering your home this weekend, then you will be better prepared to organize your home and spring clean room by room with these Spring Cleaning Checklists.
Tips for Decluttering Your House for Spring Cleaning
To start decluttering your home, choose a room below based on need or urgency. Complete the tasks listed for that room, then choose the next room to declutter. You may not need to complete all tasks if they aren't applicable to your space. Then move on to the next room until you have removed the clutter from each room in your home. Don't just stash it in the garage or basement. Set a date to take the unneeded items to a thrift shop or organize a garage sale.
Decluttering the Living Room:
1. Browse through all DVD's and movies. Eliminate any empty cases (you can recycle them) and donate any you no longer watch. Discard any severely scratched or damaged.
2. Comb through shelves. Donate any knickknacks you don't need.
3. Sort through books and magazines. Old magazines can be recycled and any books you have read may be donated.
4. Sort through drawers of end tables. Remove any loose papers, garbage, or unnecessary items.
Decluttering the Kitchen:
1. Remove any expired items or old and unused items from the pantry.
2. Toss any empty boxes that may have accumulated in the pantry or cabinets.
3. Toss any old or unused spices as they are most likely not fresh or good for use anymore.
4. Sort through kitchen towels. Remove heavily stained or torn towels. Add them to your rag bag for cleaning.
5. Comb through dishes, and remove any cracked or chipped pieces.
6. Empty all drawers and remove any broken or unused tools or appliances. Toss or donate.
Decluttering the Home Office:
1. Toss any receipts more than a year old unless you need them for taxes. File any tax-related receipts.
2. Throw away any bills more than a year old. A paper shredder is perfect for shredding documents with personal information.
3. Comb through filing cabinets or filing folders, eliminating any items that no longer have value or need.
4. Shred any documents containing personal information. Discard the shredding right away so they don't get forgotten about!
Decluttering the Bathrooms:
1. Toss any empty or old toiletry containers. Add the contents of nearly empty containers to new ones so you don't have two taking up space.
2. Toss any makeup or cosmetics more than a year old.
3. Check showers for empty containers and discard.
4. Remove any items that don't serve a purpose from the bathroom counter and sink area.
5. Repeat this process on the back of the toilet. Remove any items that aren't used daily.
6. Sort through bathroom towels. Remove heavily stained or torn towels. Add them to your rag bag for cleaning.
Decluttering the Bedrooms:
1. Clear dresser tops of anything that doesn't serve a daily function.
2. Comb through drawers and closets for clothing items you no longer wear or use. Donate any items still in good condition.
3. Line up shoes. Donate any you haven't worn in the last few months.
4. Repeat this process when considering your jewelry, scarves, belts, and other accessories.
5. Check under beds and side tables for items that can be stored elsewhere, donated, or tossed.
Here are more tips for decluttering your bedroom.
Decluttering the Toy Rooms:
1. Remove and toss any toys that are missing pieces or broken.
2. Donate any toys that haven't been used in the last 6 months.
3. Remove any non-toy items and put them in a more appropriate place.
4. Comb through shelves and remove any items that don't serve a purpose.
When you are ready to start decluttering, use this post as a guide to accomplish the task room by room. By doing so you will find that you do a more through job, and the process can be done in less time since you are staying focused. Give these tips a try and enjoy a clutter-free space this spring!
Printable Spring Cleaning Checklist
You can print out the decluttering checklist below by clicking on the image or clicking here.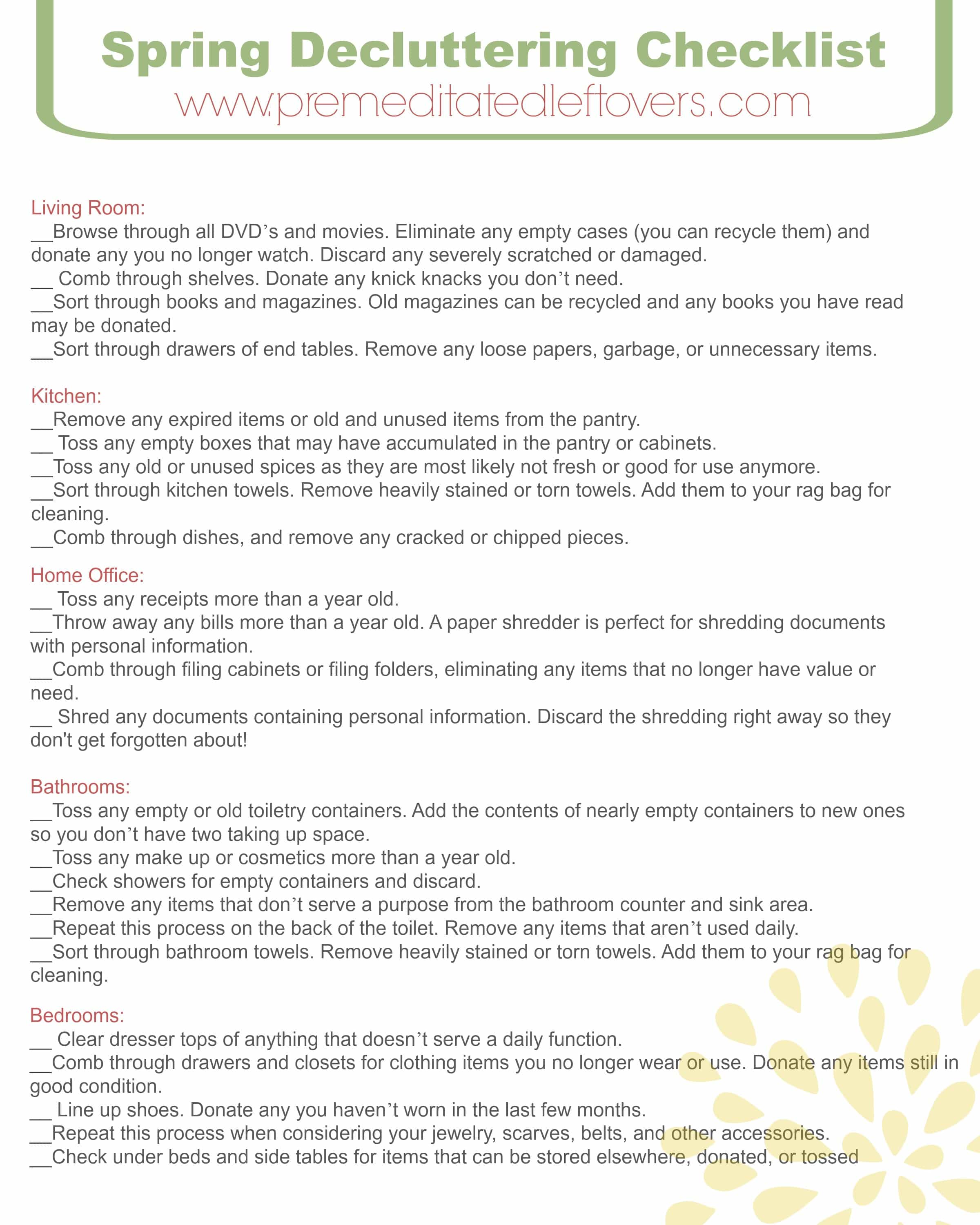 More Decluttering Tips
How to Have a Clutter Free Home
More Spring Cleaning Tips