Use these tips for organizing your home for spring cleaning to get your home organized ahead of your spring cleaning. This will make it easier to spring clean your home.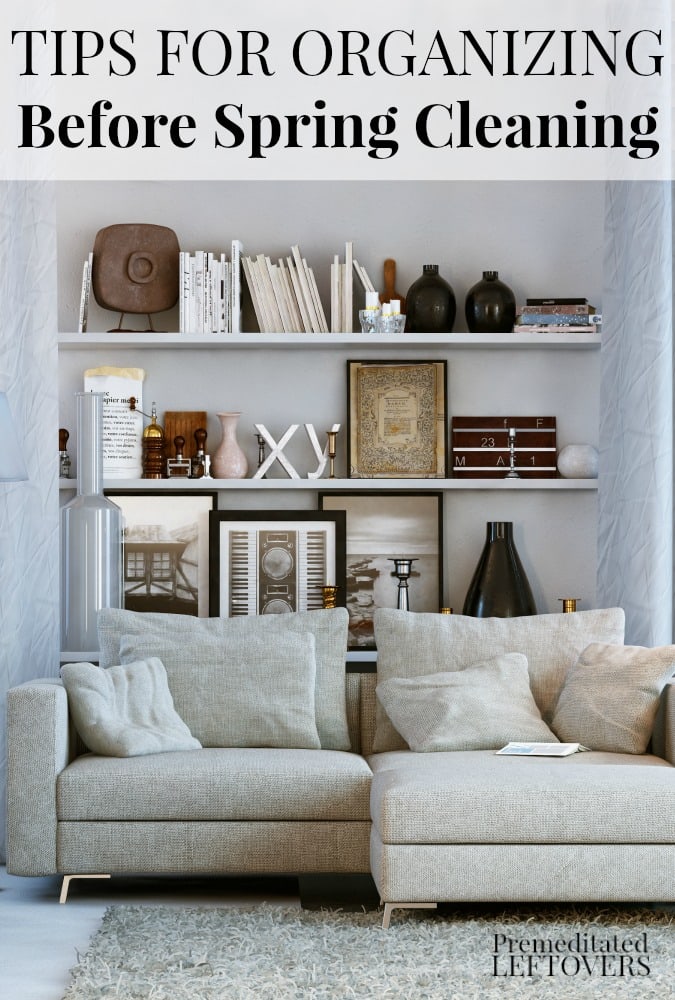 Spring is the perfect time to get your home organized. Tackling each room one at a time is the perfect way to do a thorough job and make sure no detail is overlooked. To get started, take a look at this helpful list below for how to spring organize room by room. By using this list as your guide, you can effectively tackle organizational issues you might have and enjoy a more functional space. And it will make it much easier to do a thorough job of spring cleaning your home, if you have decluttered your house and organized each room. Here is how you can get started!
Tips for Organizing Your Home for Spring Cleaning
Organizing Your Family Room
1. Add flat storage bins under sofas and chair for storage of DVDs, Blu-Rays, books, and other entertainment items.
2. Empty all drawers (inside tables, buffets, and storage cabinets) and discard or donate any items you no longer use. Add small bins or boxes to sort items out for easy access.
3. Corral the toys. Find decorative chests or baskets to hold all toys. Label each basket or bin with each child's name.
4. Add Velcro to all remotes and attach them to the sides or furniture or to a designated storage station.
5. Re-do all shelving. Remove clutter and place the most used items on top. Place lesser used items at the bottom. Use small boxes or baskets to keep smaller items organized in one easy to find place.
Organizing Your Kitchen
1. Remove all cutlery and tools from drawers. Add drawer inserts to keep each piece organized and easy to find. Replace.
2. Organize spices in alphabetical order for easy access.
3. Add magnetic clips to the refrigerator to organize memos, coupons, or important lists.
4. Pair all Tupperware up with lids. Remove any odd lids and recycle.
5. Sort out pantry by food category. Group like items such as canned goods, dried goods, cereals, snacks, etc. Make sure each item is in a category so it can be found easily.
6. Check food expiration dates. Check out the dates on items and move soon to expire goods to the front and keep those with a longer shelf life to the back.
7. Repeat steps 5 and 6 to organize perishables in your refrigerator.
8. Use labels to keep food organized and easy to find.
More Kitchen Organization Tips
Organizing Your Bedrooms
1. Empty out nightstand drawers. Add simple dividers or small boxes to keep items organized.
2. Clear off dressers and gather perfumes and toiletries into baskets.
3. Empty out dresser drawers. Use old shoe boxes to organize undergarments. Sort clothing items according to season or need and replace.
4. Add more hangers to closets if needed. Hang clothing according to season or need.
5. Gather accessories such as ties and belts and use a skirt hanger to organize them.
6. A piece of crown molding attached to the wall is a great way to organize shoes. Or, use an over the door shoe organizer.
7. Use Command peel and stick hooks to keep scarves, accessories, nightgowns, and other items hung up and within quick reach.
8. Slide thin storage units under beds for additional storage of clothing and accessories.
More Bedroom Organization Tips
Organizing Your Bathrooms
1. Add easy to install shower storage in the form of a suction shelf or a shelf that you can hang from the shower head.
2. Empty all cabinets and add small boxes or dividers. Replace items, making sure to remove any expired or unused items as you do.
3. Add small boxes or baskets under the sink for toiletries and paper products. You can also add stockpile items to these baskets such as deodorants, shampoos, and face wash.
4. Add a basket behind the toilet for paper products or cleaning supplies.
5. A wine rack, small ladder, or basket makes the perfect storage option for towels, washcloths, and bath mats.
6. Use mason jars or decorative canisters to keep cotton balls, q-tips, and other disposable toiletries organized.
More Bathroom Organization Tips
Organizing Your Play Areas
1. Find inexpensive shelving to keep toy bins and baskets organized.
2. Use labels to keep each child's toys separate or label toys by category.
3. A plush animal net is a great way to keep plush dolls in place.
5. Use furniture items that double as storage, such as bench seating or a storage ottoman.
Try to organize one room at a time so you can be sure to do a thorough job and not overlook any aspect. Following this list of suggestions is a great place to start and can help you get the job done fast!
Printable Spring Organization Checklist
This spring, get your home more organized and make your space more functional by using this checklist! Print it out by clicking on the image below or by clicking here.
More Spring Cleaning Tips
Tips for Decluttering Your House for Spring Cleaning
Spring Cleaning Checklist with Room by Room Cleaning Tips
Eco-Friendly Spring Cleaning Tips
Spring Clean the 10 Neglected Areas
Time-Saving Spring Cleaning Tips
More Organization Tips
6 Storage Ideas Using Repurposed Items
How to Save Money on Home Organization