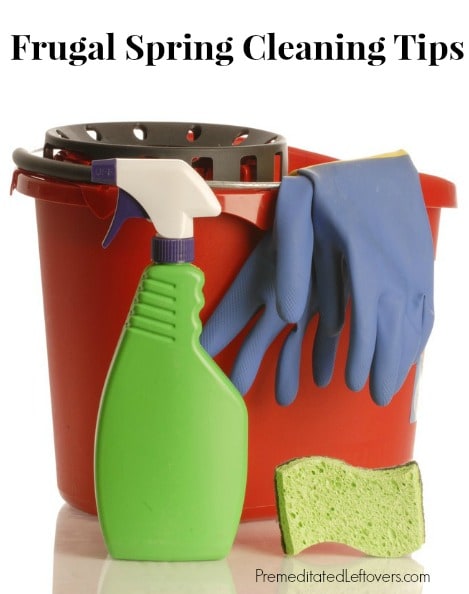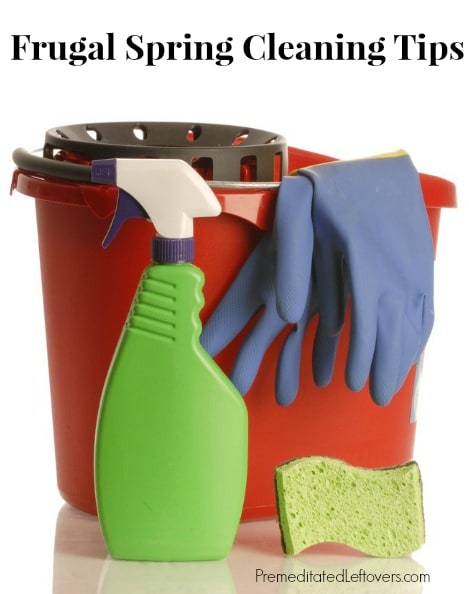 Spring cleaning can be a daunting task and even more so when you consider how much money it can cost to do a thorough job. With all the organizing, cleaning and re-arranging, you may be wondering how you will do it by spending very little. The truth is, Spring cleaning does not have to cost much to do it well. Find our frugal spring cleaning tips below.
Frugal Spring Cleaning Tips
First, come up with a plan to tackle the tasks. Knowing what you want to accomplish will keep you from over spending and allow you to only purchase what you actually need. There is nothing worse than buying too many organizational products and not having anything to put in them.
Make some (or all!) of your cleaning supplies. You would be amazed at how low-cost and easy to make average cleaning supplies are. The ingredients are not only common, but also very cheap. For instance, vinegar and baking soda can be bought for less than a dollar and can do a multitude of tasks and be used on a variety of surfaces.
Homemade Cleaners:
If you have a lot of areas that have clutter that is small in size such as hats, gloves, scarves, etc., try hanging an inexpensive over-the-door shoe organizer in the closet to corral these small items. You can get one online for less than 8-10 dollars and it is well worth the investment.
To clean your blinds, try using an old sock. Just dip it in vinegar , wring it out so it is just damp, slip it over your hand and wipe your blinds with it. This works for vertical blinds as well as others. To keep dust from coming back, wipe the blinds down with a used fabric softener sheet.
Get creative when it comes to organizational materials. You don't need to run out and spend a lot of money on new bins and containers. You can repurpose items you already have to create storage containers. Baby food jars with lids make great containers for small things in the garage such as nails, screws and tacks. Shoe boxes can be labeled and stacked in closets to hold papers and craft supplies.
More Organization Tips:
Shop at thrift stores for organization stuff. You would be surprised at how many plastic bins, filing cabinets and small storage boxes you will find. The best news is, you will pay far less for them than you would if bought new and many times, they are in excellent condition. I once bought a metal filing cabinet for less than $5. The same cabinet would cost me over $50 or more if bought new.
With all the furniture moving you may be doing during Spring cleaning, you might be surprised by how dirty your carpets have become. Vinegar is a low cost, effective cleaner for carpets as it not only removes odors, but stains as well without being harsh. To further deodorize, sprinkle some baking soda in the areas that are the most trouble after they are dry. You can leaving it there or vacuum it; whichever you prefer.
Spring cleaning does not have to leave your wallet empty. It is quite a task, but it shouldn't cost much if you follow some of these tips.
Where do you plan to start with Spring cleaning?
Spring Cleaning Checklists
Spring Cleaning Checklist – A Room by Room Guide
Spring Cleaning List – The 10 Neglected Areas
More Cleaning Tips