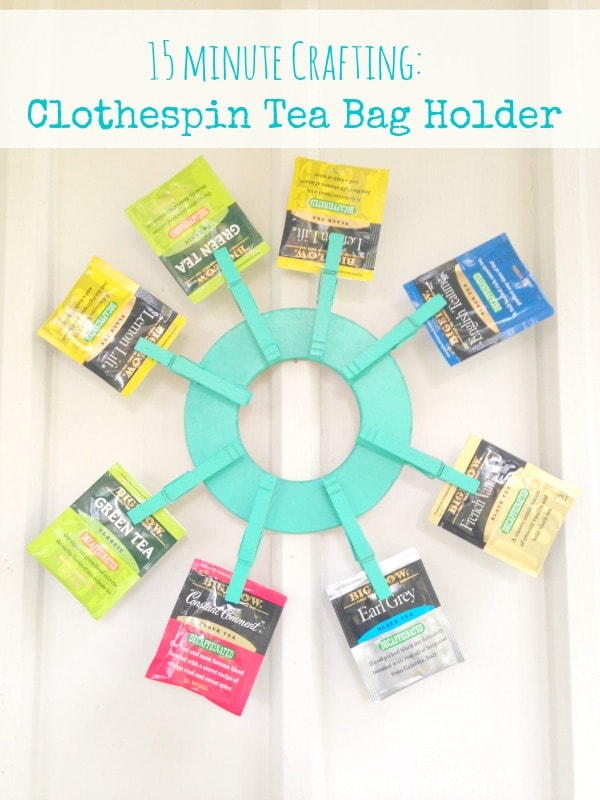 Do you love a hot cup of tea? If so, you might be wondering how to keep your tea bags organized. Take a look at this quick craft we did, perfect for organizing tea bags in a fun and colorful way. You can make your own clothespin tea bag wreath in under 15 minutes, making this a craft that you can do even on limited time. Here is how you can get started!
DIY Clothespin Tea Bag Wreath
Supplies needed:
Wood wreath form (Under $2 at most craft stores. Look in the wood crafts section.)
Wood clothespins
Spray paint in your choice of color and finish
Hot glue, glue gun
Directions:
1. Begin by applying two coats of spray paint to the wreath form and clothespins. We used a tropical blue, but you can use any color that matches your scheme. Use a quick drying spray paint and you can get this project knocked out in no time. Remember that the color and finish of paint you choose to use is up to you!
2. Once the wreath form and clothespins are dry, you can begin attaching them together. Put a generous amount of hot glue on the underside of each clothespin. Place a clothespin at 12, 3, 6, and 9 o'clock on the circle. This will help you evenly space the clothespins. Be sure you are placing them so the mouth of the clothespin is facing outward.
3. Continue filling in the spaces until the entire wreath form is covered evenly with the clothespins.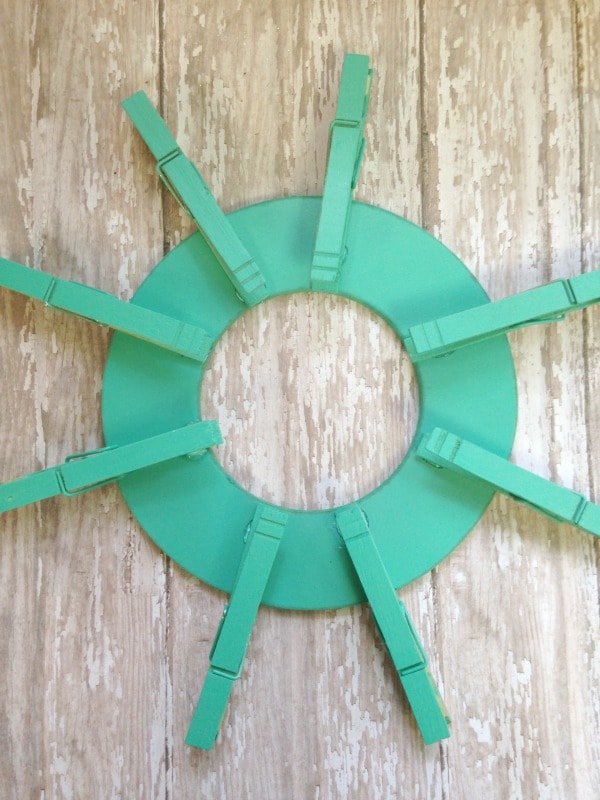 4. Now, you can start attaching your tea bags. All you need to do is place them in the clips. You will quickly see the wreath shape start to form.
Your clothespin tea bag holder is now ready to be displayed. It is perfect for hanging in your kitchen or breakfast nook, keeping your tea bags organized and ready for use.
Gather your supplies and give this clothespin tea bag holder a try. It is such a quick craft, and a fun way to keep tea bags organized. Give it a try!
More DIY Organization Ideas
Upcycled Yardstick Mitten Holder
DIY Burlap and Fabric Wall Organizer