Does Christmas shopping cause you a lot of anxiety? If so, here are 5 Ways to Reduce the Stress of Christmas Shopping that can make the process easier.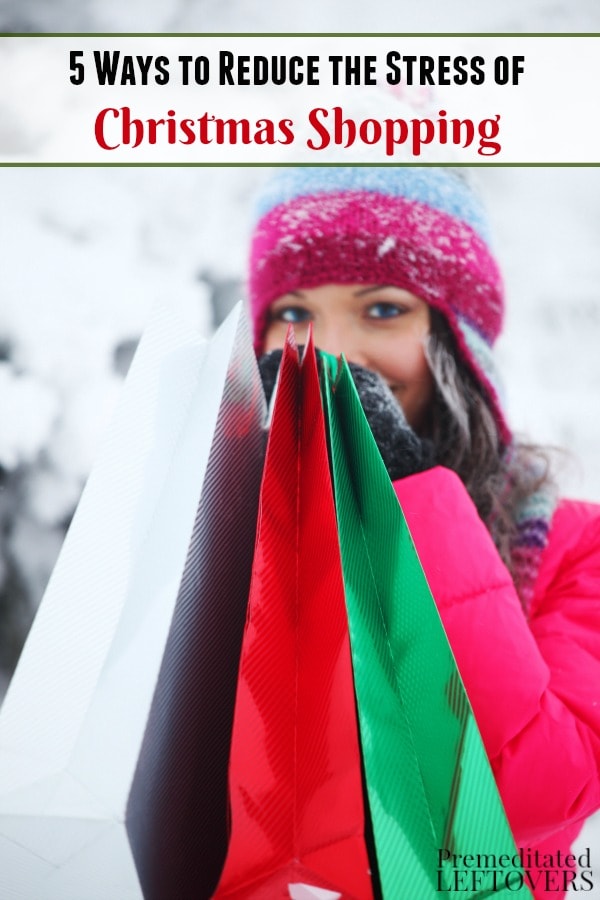 Christmas shopping is an essential part of the holiday season for most people. There are gifts to buy, food to purchase for dinners, and decorations to get for your home. With so many purchases to make, it can all get a bit stressful and overwhelming if you aren't careful! Read on to find out how you to can take the stress out of your holiday shopping this year.
5 Ways to Reduce the Stress of Christmas Shopping 
1. Make a list for everything. Many shoppers write down everyone they need to buy gifts for during the holidays. However, your Christmas shopping will be much easier for you if you make lists for all the purchases you will be making.
Separate the lists into categories. Gifts, food, decorations, and anything else you will be buying. Having a list eliminates the possibility of forgetting something and needing to make more trips to the store. It will also help you stick to your holiday budget.
2. Shop a little at a time. It is unlikely that you will need to do your Christmas shopping all in a single trip to the store. Putting this type of pressure on yourself is sure to stress you out and send a huge blow to your wallet. Instead, start your shopping early, around October. That way, you can purchase a little toward your holiday shopping lists each week. This lightens the load for you and your bank account. Spreading it out like this is sure to alleviate any overwhelm you feel about tackling all of your lists.
3. Shop online. If the thought of going into the stores during the busy holiday sends your blood pressure rising, consider doing your Christmas shopping on the Internet. Stay in your comfortable pajamas and your favorite recliner while you get the gifts bought for your loved ones. Plus, shopping online for Christmas has money-saving perks.
You can sign up at websites like ebates.com to earn money back on your purchases. Always use Google to look for a coupon at any retail website before completing your purchase as well, as you can save even more for a few minutes of research.
4. Take a friend. Shopping for any occasion is always better with a friend! Choose someone that you haven't seen in a while so that you two can catch up as you browse the stores. Make a day of it, in order to knock out as much of your Christmas shopping as you can while you hang out.
5. Divide your lists amongst your family. You don't have to be the only one fighting the crowds to get everything needed for the holiday. Ask your spouse and older children to pitch in. Go into a store with everyone, giving each person a few items to find. Make sure to write down specific colors, brands names, or sizes if needed. Everyone takes a shopping cart and meets back in a central location within 15-20 minutes. This makes Christmas shopping much less stressful for you, while everything still gets bought!
More Christmas Shopping Tips:
7 Ways to Save on Shipping Christmas Gifts
8 Tips for Cutting Back Your Christmas Shopping List
Apps That Will Help You Pay for Christmas
How to Get Free Christmas Gifts
Parent's Guide to Buying Only 4 Christmas Gifts From Santa
Kecia is the founder of Southern Girl Ramblings. Her site is dedicated to helping moms survive parenthood…one post at a time. She features information on parenting, health, travel, fun, and more to ease the craziness that goes on in kiddo-filled households!