This Homemade Christmas Tree Advent Calendar is an easy craft to make with recycled paper towel rolls. Each day you count down towards Christmas reveals a hidden treat!

It's almost time to start the Christmas countdown! There are so many fun ways to do this with advent calendars. You can find all sorts of them in stores or enjoy making one of your own as a Christmas craft. This DIY Christmas Tree Advent Calendar uses recycled paper towel rolls to create little pockets for you to hide small toys or candy. When the tissue over the front of each day is removed, the treat is revealed! Not feeling the idea of adding treats? Hide small notes or acts of kindness that can be carried out throughout the month! To get started on this DIY advent calendar, check out the easy tutorial below.
DIY Christmas Tree Advent Calendar Tutorial
Materials Needed:
4 paper towel rolls
1 large piece of cardboard
red and green tissue paper
green craft paint
paint brush
circle calendar stickers (We found these at Hobby Lobby)
hot glue gun/hot glue
scissors

Directions:
1. Lay out an old newspaper before you get started.
2. Paint your paper towel rolls green and let dry.
3. Paint your cardboard green and let dry.
4. Cut each paper towel roll into 6 even pieces.
5. Stack your tissue paper, trace a mason jar lid onto the top, and cut out the 24 circles (12 green and 12 red).
6. Stick a piece of double sided tape around the top of your green paper towel rolls.
7. Place a tissue paper circle over the top of each paper towel rolls and press the sides onto the tape.


8. Stock a piece of candy or a small toy into the back of each roll and hot glue the back of the rolls onto your green cardboard in the shape of a tree starting at the top.
9. Hot glue your number stickers onto the front of each tissue paper circle (you don't need to go in order).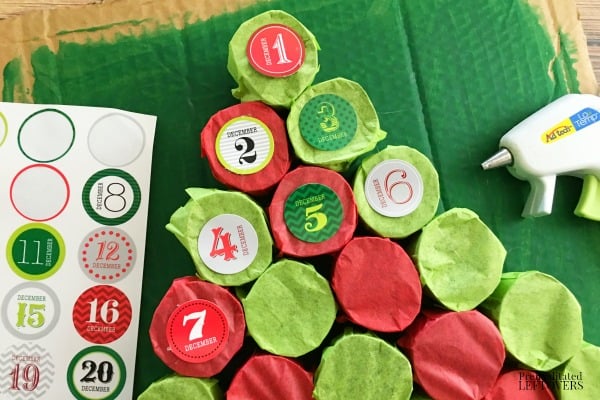 10. Cut out your cardboard in the shape of a tree around your paper towel rolls.
More Advent Calendar Ideas:
Heart of Christmas: A Christian Alternative to Elf on the Shelf
10 Homemade Advent Calendar Ideas
10 Fun Advent Calendars For Kids