My friend, Shana, often shares pictures of her adorable little boy, Blaze. In one of those pictures I saw what I thought was a brilliant, beyond brilliant idea and asked her to share it with you, as well as a little bit about herself.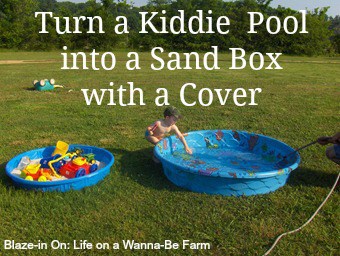 This last week here in GA we have had some beautiful weather in the 60's and have even hit 70. It has me really thinking of playing outside with Blaze and I wanted to tell you about one of the main things we do when warm weather hits. All kids, or all of them I know, love to play in water and sand. When I first went looking for pools and sand boxes for Blaze right before he turned two, I was amazed at the selection but was also not happy with the prices that were asked for them. So I came up with my own frugal solution to the dilemma.
I just could not see spending $39 or $49 for a sandbox that was tiny and I also didn't want to spend a ton on a kiddie pool. I decided to one up the stores and bought 2 of the cheap hard plastic pools, one smaller than the other. In the small one, I put 5 bags of play sand (I think that was a little too much and will go with 3 or 4 this summer) and I used the big one for water. With small ones around you need to empty a kiddie pool every day so my idea was to use the big pool as a lid for the small pool (sandbox). So after and long day of playing in the water and sand, we just empty the pool and turn it upside down and cover the sandbox so any critters or moisture stay out of the sand. Works like a dream.
This will be the 3rd summer we have used the same 2 pools so I would think this has more than paid for the investment. We bought the bigger pool at Fred's for $10 and the smaller one at Wal-Mart for $12. I would have got the small one at Fred's too but they were out. But all in all I would say $22 for 3 years so far is a very good deal.
Shana blogs over at Blaze-in On: Life on a Wanna-Be Farm. She's been with her husband Chris for almost 19 years now and after being diagnosed with PCOS and 12 YEARS of trying we had our miracle boy Blaze in August of 2007. He is my ray of sunshine and what I wanted more than anything in the world. I love blogging, reading, crocheting and sewing. You can find her on Facebook and Pinterest.