Update your home on a budget with these Home Decorating Ideas on a Dime! You will find great tips for finding affordable home decor and accent pieces.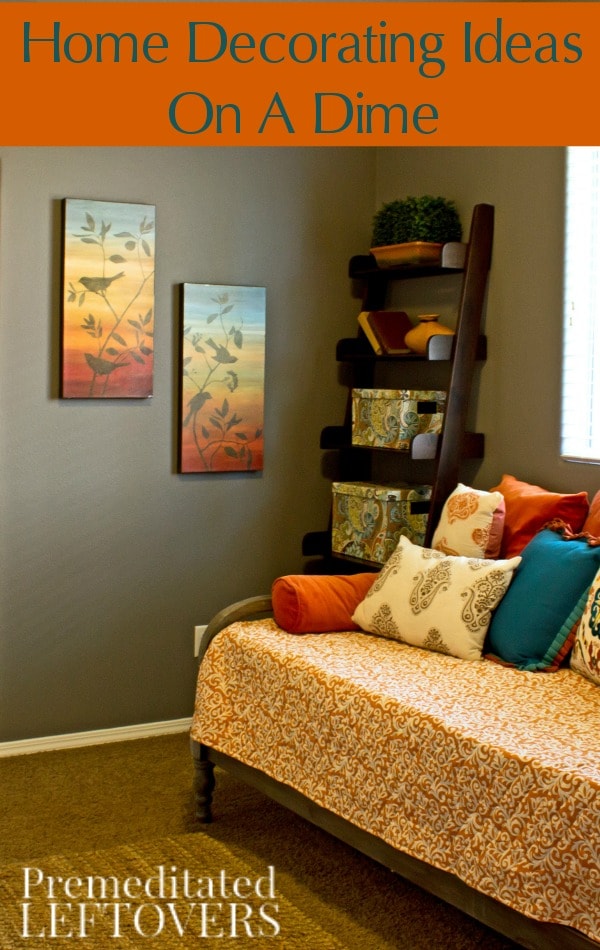 Who says you have to pay a fortune to decorate your home? Check out our home decorating ideas on a dime! You really don't have to settle for less when it comes to having a beautiful home. In my opinion, it's all where you look for those décor pieces. Use these tips for Home Decorating Ideas on a Dime.
Home Decorating Ideas On A Dime
Have a Theme in Mind: In my decorator's mind, it's much easier to find a statement piece when I have a theme going on. For example, I'm looking for a vintage piece for my living room. Knowing this, I can look for a better deal on vintage themed décor and stay within my budget! It's so easy to get your budget off kilter when you're not focused!  Keep your decorating ideas focused! 
Curbside Delight: One of the most incredible decorating ideas for your home on a dime is to look on the curb. I have found some awesome statement pieces on the side of the road, thanks to it being someone else's trash. Not everything that you find on the side of the road will be perfect, but you can always spend a little time fixing it up. I like to name the décor items I find on the side of the road "curbside delight." You don't have to pay for it and it can become a real statement piece in your home.
Craft Store Clearance Section: Want to find an awesome place for home décor? You need to go to your local craft store and look in the clearance section. Recently, we moved and I had $100 to basically get home decorating ideas for my entire home. I was able to pick up a large "Paris" painting for $12. Also, I was able to stock up on baseball décor and Star Wars décor for my kids' bedrooms. If you aren't too picky, this is a great starting point.  I have also found unframed prints on Amazon for really low prices.  I can add them to cheap or thrift store frames for great decor! 
Dollar Stores: If you haven't noticed yet, your local dollar store has some awesome décor. Since I have kids, I don't want to spend a ton of money on décor (they break things way too easily). I truly think you need to spend time looking in the dollar store and experience all of the décor pieces happening in there. Here are some items you may be able to snag from the dollar store.
Framed pictures

Candles

Accent pieces

Season décor
I'm amazed every time I step foot into this store. Not only can you find décor pieces there, but you can also find nice filler pieces!
Use and Retired Décor Pieces: Do you have a grandma, aunt, or mom who has pieces of décor that are not using? Keep an eye out for home decorating ideas that will look awesome in your home. Often times, family members will sell you these pieces really inexpensively. Take a retired home décor piece and give it a new home in your house.
More Home Decorating Ideas:
Simple Tips For Minimalist Home Decorating
How To Save Money On Home Decor
5 Essential Interior Design Tips For Your Home
4 Living Room Decorating Ideas On A Budget