Do you love the look of colored chalk paint in home decor, but hate the high price of chalk paint? Good news! You can make your own chalk paint in what ever color you wish for a fraction of the price. Not only is it inexpensive to make, is also easy to make your own colored chalk paint.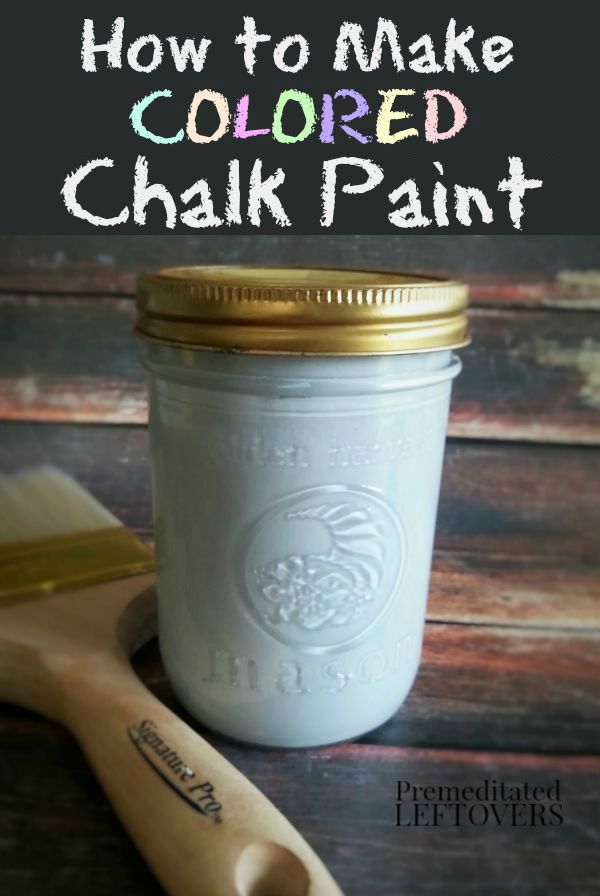 For small projects, I like to make I like to make one cup of chalk paint at a time because it mixes better and the paint goes a surprisingly long way. I like to make the chalk paint in a 16 ounce wide mouth Mason Jar. The seal and lid make it an ideal lidded container for shaking the ingredients to combine. The wide mouth makes it easy to get a paint brush in it.
You can use any latex paint color you wish, but you must use either a flat or matte paint to achieve the chalk paint look and feel. We wanted a grey colored chalk paint, so we used a grey matte paint. If you are open to ideas for your chalk paint color, you can save money by using remnants of paint form past projects or select a flat or matte paint from the "oops" section of your local hardware store.
How to Make Colored Chalk Paint
Supplies Needed:
Mason Jar
Calcium Carbonate Powder (can buy at health food stores or online)
Latex paint color of your choice (be sure that the finish is either flat or matte)
Stir sticks
Warm water
Measuring spoons
Directions:
1. Start with the mason jar and add 4 TBSP of the Calcium Carbonate.
2. Next add 2 TBSP of warm water, and stir until you get a creamy base.
3. Add one cup of paint to the mixture and stir until the calcium carbonate and paint are well blended and you don't see any white.
Tips for Using Chalk Paint
No sanding or priming is needed before you paint with your homemade chalk paint. Just make sure the surface is clean and dry before you start painting.
Apply 2 – 4 coats to achieve your desired results. Allow the chalk paint to thoroughly dry between coats.
You can finish your project with a waxing cream, but remember waxing cream isn't permanent and will need to be reapplied from time to time. To apply waxing cream rub it on with a clean rag and then buff it off with another clean rag.
You can also finish projects painted with chalk paint with a water-based polyurethane finish, which is also known as polycrylic finish. It does not need to be reapplied.
Chalkboard DIY Ideas
How to Make Chalk Paint Using Plaster of Paris
How to Make a Chalkboard Pumpkin
Thanks to Kelly for sharing her chalk paint recipe and tips with me!