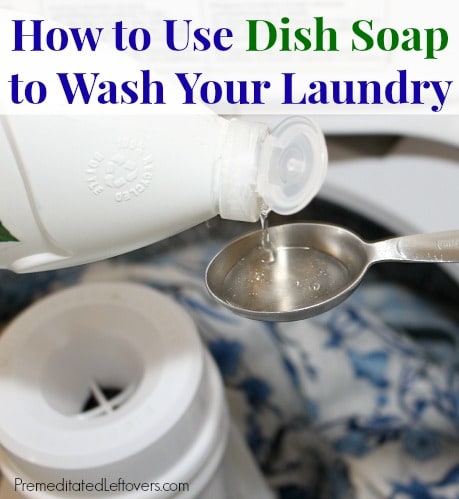 Did you know you can use dish soap to wash your laundry? I learned this tip from my Dad. And although he is a pretty darn smart, I waited to share it until I tried it for myself to share it with you. I didn't actually try it until I ran out of laundry soap, but when I did try it, I was quite please with the results.
My Dad said he learned the tip from AARP, which suggested a teaspoon of Dawn. Dawn is great at getting grease stains out of clothing so I could understand using it in place of laundry detergent. I decided to try using several different dish soaps and several different quantities of dish soap to compare the results. I also wanted to see if my machine would produce tons of bubbles if I doubled or tripled the recommended amount.
I tried Dawn, a very cheap store brand, and a phosphate-free, hypoallergenic dish soap. They were all effective, the cheap store brand smelled the best, but I decided to continue using the hypo-allergenic dish soap because my youngest son has sensitive skin.
How to Use Dish Soap to Wash Your Laundry
It is actually quite easy to use dish soap to wash your clothes.
1. Place the dirty clothing in the washing machine like you normally would.
2. Add 1 – 3 teaspoons of dish soap. I used 1 teaspoon in small loads, 2 teaspoons in medium loads, and 3 teaspoons (which equals 1 tablespoon) in large loads.
3. If you wish, add 1 cup of vinegar which is a frugal fabric softener (and also removes the smell from mildewed clothing, but does not leave a vinegar smell).
4. Choose your settings and wash as usual.
Your clothes will be clean and smell fresh. Dry as you usually would.
But won't dish soap bubble over and out of my washing machine? Even when I added a tablespoon (3 teaspoons) to a load of laundry I did not experience significant bubbling. And when I used the phosphate-free dish soap there were almost no visible bubbles:
Important things to consider when using dish soap to wash clothing:
Measure the dish soap. It is easy to accidentally add too much. Use 1 teaspoon – 1 tablespoon, depending on the size of your load.
Make sure you choose a dish soap that does not contain bleach! (There are a few brads out there that do have bleach).
I have a regular top-loading washing machine and so does my Dad, so I am not sure how this would work in a high energy washing machine.
More Laundry Tips