Before I started getting into DIY ideas and Table Decor Ideas I used wrapping paper to wrap gifts. That was it.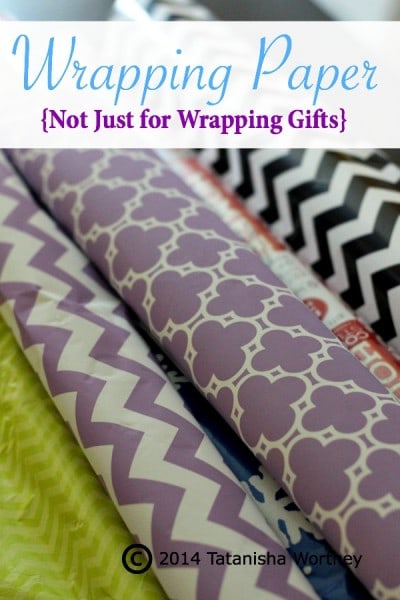 A few years ago when I was putting together a table decor idea, I was looking for a specific table runner pattern. I couldn't find it, but happened to stumble across wrapping paper that matched the style for this particular setting.
I thought… "What if I used wrapping paper for a runner? Eh, let's try it and see how it looks!"
I tried it. I hemmed and hawed about it. But when those finishing touches gave me the look that I wanted, I became a fan of using wrapping paper as table runners.
You can create a unique for each Holiday or Party Idea.
Using Wrapping Paper to Cover Tables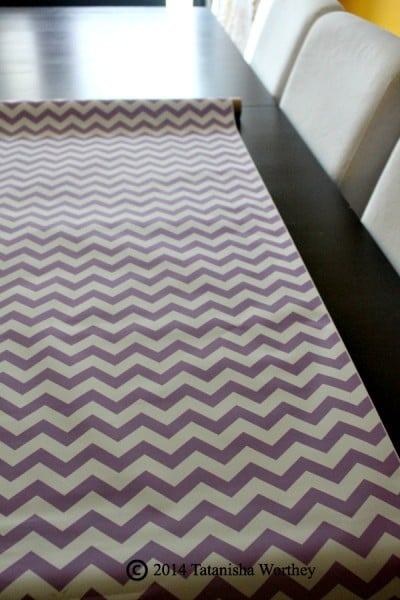 And with Christmas coming up, be sure to be on the lookout for beautiful Christmas wrapping paper to create unique looks for your Christmas Table Setting: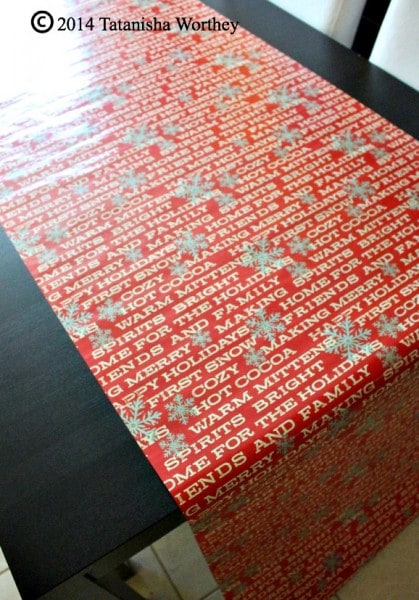 I used wrapping paper in my Easter Table decor Idea:
Over on my blog- Table Decor Ideas, I have used Wrapping Paper in several different Table Settings.
More Ways to Use Wrapping Paper to Decorate on a Budget:
I used a Black & White Chevron Wrapping Paper as a runner for a Christmas Table Decor Idea: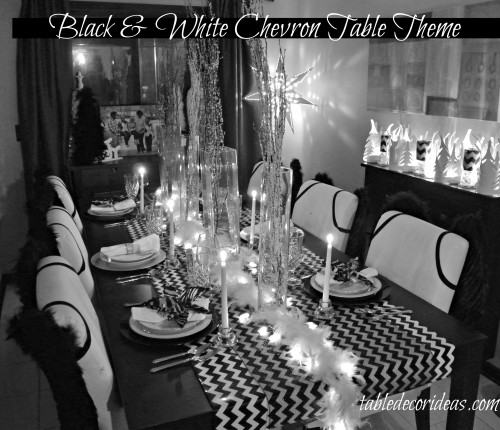 Or this Easter one: I picked up this wrapping paper at Target for just $2 bucks! Using wrapping paper for table runners definitely helps you save money when you're trying to create new table settings.
And then it went from using wrapping paper for table runners to using it to wrap vases and other decorating ideas.
For an example, if you have a vase you could change the wrapping paper each season to give your vase a new lease on life.
Check out this one from an Easter Idea. I took an empty vase, wrapped it in some fancy wrapping paper and boom- a Easter Egg Centerpiece was born.
I have also used wrapping paper to cover window seats, tablecloths for smaller tables and more.
Think about this: When it comes to entertaining and cleaning up this method makes it EASY. When you're cleaning up the table and the kids made a mess all you have to do is pull it off and toss. You're not spending hours scrubbing the stains out or trying to run it through the washer.
After creating new designs using wrapping paper, I am in love with this idea. Wrapping paper is a great way to reuse and recycle for new projects. You can buy new wrapping paper or take the used paper from Wedding presents, Birthday Gifts, etc to create a new decor look.
You can check out my recent DIY Tutorial on how to decorate your vase with wrapping paper for more ideas.
Now, the question is… Will you branch out and start using wrapping paper for your future Table Decor Settings or other Decor Ideas? If so, let me know below in the comments. I would love to hear what you have to say!
And if you're not planning on doing this for a table setting, what are some other ways you plan to use wrapping paper?
Until next time, dare to be different by changing up your style and create a fresh new look.