These backyard obstacle course ideas for kids will provide lots of active summer fun!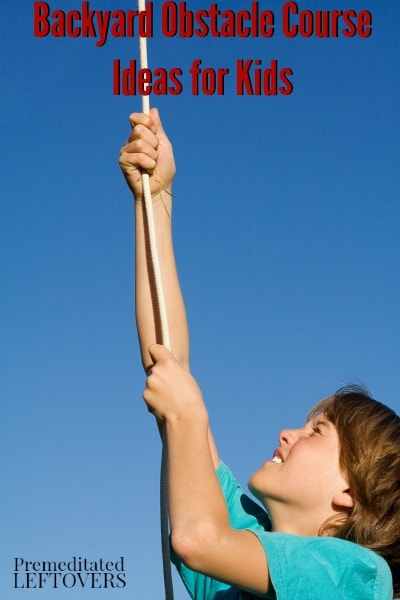 Are you looking for something fun for the kids to do this summer? Do you need a lot of fun for very little cash? Why not turn your back yard into an obstacle course for kids? They'll have so much fun that you will be tempted to join in. Below are some cool backyard obstacle course ideas for kids to get the fun rolling.
Backyard Obstacle Course Ideas for Kids
Knotted Rope Climb
Tie a rope in a tree. At the top, put several different color flags. The players will each have to have their flag at the end of the course, so make sure you have enough for each child to get a different color. The children climb the rope to get their flag before moving on to the next event.
Crawl Along
Place four chairs on opposing sides. Run rope so it criss-crosses, tying it to the chairs. Children have to climb under the rope to move on to get to the sandbox on the other side.
Sand Treasure
To make it easier to hold onto their flags, the kids need a clip on key ring. Bury the key rings in a sandbox. Each child has to find their key ring. It should be the same color as their flag. Children dig out their key rings and hook their flags to their belt loops. Parents can help the children find a place to hook the flags if they don't have belt loops.
Build Stamina
You can't run an obstacle course without stamina. Have a station where the kids have to do sit ups and pushups. This station will help them to build stamina and get stronger.
Endurance
Once the kids finish that, send them on an endurance run with tires. Place tires in rows side by side. Kids have to put one foot in each tire as they make their way to the next event. If you don't have access to tires, use lines drawn with chalk to form circles or hula hoops.
How Low Can You Go?
The kids are going to have to slow down for a minute for this event. One adult holds each end of a broom handle. The handle gets moved up and down. The object is to get through without touching the broom handle. You can also keep the handle in one place and lower and raise it to adjust for the age and height of the child.
Balloon Pop
Fill up balloons so that there are an equal amount of colored balloons for each child. Match colors to flags. Children have to pop the balloons of their color without using their hands.
Yard Tool Race
Bring out the wheelbarrow, lawn mower, push cart, and whatever else you have with wheels. They don't need a motor for this. Each child has to push one item to a predetermined spot and turn in his or her flag to win the race.
Using what you already have in your yard, you can create a fun backyard obstacle course for kids of all ages. Just don't forget that they are going to want prizes at the end of the obstacle course!
More Outdoor Activities for Kids
How to Create a Photo Scavenger Hunt for Kids
You can find more ideas for frugal summer fun for kids here as we share a new frugal summer activity for kids each day for 100 days!