Enjoy 25+ Days of Reading with your child with these Book Themed Elf on the Shelf Ideas.
Elf on the Shelf is a popular Christmas tradition, but I don't like the naughty pranks and to be honest, it can be a lot of work!
I am more of Book Advent Calendar type of mom; I love an excuse to cuddle up in front of the fire and read with my kids. This year as I was planning on wrapping up books for our Book Advent Calendar, I started thinking of other fun ways I could give my youngest son a book each day of Advent without going through the hassle of wrapping 25 books. Then it occurred to me that I could pair a book each day in a creative way with the Elf on the Shelf.
Benefits of Book-Themed Elf on the Shelf
No wrapping. You don't have to wrap all the books used in a Book Advent Calendar.
No complicated naughty elf set up.
No messes. The Elf doesn't have to add to the holiday mess!
Instead of an elf that is spying on them to tell Santa if they have been good, we use our elf to encourage our children to read.
As all but one of my children are now grown, I reached out to my friend Katie Femia who is a fellow blogger, an author, a former teacher, and most importantly the mother of 3 children between the ages of 5 and 13, to team up with me to create book-themed Elf on the Shelf ideas and printables.
How to Combine Books with Elf on the Shelf
With just a little silliness, a touch of sweetness, a fun book, and you can create a festive way to prioritize reading with your children.
We have a list below with books and ideas for how to use them with Elf on the Shelf. Use our ideas and a starting place. Then choose books that your child will enjoy and that have some element to them that will be easy to create a fun twist using the elf. For instance, you can set your Elf up so he is eating a candy cane while reading The Legend of the Candy Cane when your child finds him.
If you have used the traditional Elf on the Shelf with the no-touch rule in the past, you may want to use this touchable plush Elf this year.
Do I have to move the Elf each night?
You can move the elf to a new location each night matching the location to something in the book, for example, the elf can be placed in the kitchen beside a plate of cookies with the book Christmas Cookies or the elf can be asleep in a doll bed with the book Goodnight Moon. However, you may prefer to have the elf waiting in your favorite reading spot each morning.
And don't worry, we have a printable letter that you can use if you forgot to add another book before you go to bed.
When do we start Elf on the Shelf?
Some families like to have their Elf show up the day after Thanksgiving, however, many people begin on December 1st. Some people like to begin Elf on the Shelf on December 13th and countdown 12 days until Christmas. Basically, you can begin when it works for your family.
How do we start Elf on the Shelf?
On the first day, have your elf arrive with our Printable Welcome Letter explaining that the Elf will be enjoying 25 days of reading with your child. You can print a copy of the welcome letter here. If you have named your elf, print out this unsigned copy of the welcome letter and add your elf's name to the bottom.
Not starting on the 1rst of December? Then use this printable that doesn't list how many days of reading will occur. Instead, it invites the children to join the Elf on the Shelf Book Club. Print it out here. There is also an unsigned version here.
When does Elf on the Shelf end?
You can choose to end it on December 24th or 25th. On the last day, you may want to share a book on the nativity story and have the elf holding baby Jesus. The day after your elf's last appearance, you can leave this Printable Goodbye Letter encouraging your child to read throughout the year. You can print a copy of the goodbye letter here. If you have named your elf, print out this unsigned copy of the goodbye letter and add your elf's name to the bottom.
Do I have to buy books to do this?
Absolutely not. Search your bookshelves for books that will be fun to pair with Elf on the Shelf. We have lots of book ideas below to inspire you but do not feel you need to use the same books if they are not in your personal library.
If you decide you want to surprise your kids with a few new books, they don't need to be brand new books. I pick up books at thrift stores, garage sales, and library sales. Your child will not care if a book is used, they will just care if it is a topic they are interested in.
You can also borrow books from the library. Just be sure to be very careful with them and return them on time or else the late fees will make those borrowed books more expensive than thrift store books!
Do I have to limit myself to books?
You can do as many or as few book-themed Elf on the Shelf ideas as you wish. If you like to do a variety of Elf on the Shelf themes, go for it. Then add some book-themed ideas on the nights when you are too tired to do an elaborate prank. Or use one of our easy ideas when you wake up and realize that you forgot to move the elf.
25+ Book-Themed Elf on the Shelf Ideas
We have included books for a variety of ages and reading levels, but all are picture books. Some of the books are Christmas books, some are books about winter, some are sweet, and some are just plain silly.
Go to the dollar store and get a small wooden nutcracker your child can use as a reading buddy!
Create tiny reindeer antlers with brown pipe cleaners. Attach them to the elf's head and don't forget to make a pair for yourself!
Have your Elf holding some traditional candy canes, so your child can see the meaning in the candy themselves while reading the book.
Use brown or tan craft felt or foam to make your own dog bone ornament. Just cut out the shape and add a ribbon for hanging.
5. Snow Friends – M. Christina Butler
Create your own snowball fight using a handful of white pom-poms or cotton balls.
6. 5 Little Monkeys – Eileen Christelow
Craft your own monkey tail using brown craft foam or felt. Cut out a circle and then cut the circle into a spiral. Attach the tail to the elf with tape.
Place some Christmas cookies alongside your Elf so he (and you!) can enjoy them when you read this book. Or place some cooking cutters and sprinkles and then have a baking day after you finish the book.
Use red craft felt to make your own little red stocking cap for the elf. Just cut out the hat shape, and add a pom-pom at the top with glue.
Place some Hershey's kisses out with the elf for your child to enjoy while they read the book!
Craft your own little felt scarf for the elf. Cut a strip of fabric from felt and fringe the edges with scissors. Then wrap around elf so he can enjoy a snowy day!
Use brown craft paper and a black marker to create your own little bunny ears. Tape them to Elf's head so he can look like the characters.
Give Elf his own shovel or scoop so he can act just like Mike's steam shovel.
Take assorted colors of felt and make your own felt pizza. Cut a tan circle out and top with a smaller red circle. You can then add strips of white felt for cheese and bits of green felt for peppers.
Place a bowl of nuts by Elf for him (and you!) to enjoy during this silly tale.
Can your Elf read with his eyes shut? Use an elastic hair tie to hold Elf's hands over his eyes!
Use yellow craft paper to cut out a small paper crown for Elf to wear. You can make one for yourself as well!
Place a bowl of gummy fish out with Elf. Name the colors and count them!
On a piece of paper create the trunk carving from the story. For example, draw a heart, and in the heart write "Elf + Tree"
Find some silk poinsettias to place alongside Elf so kids can see what the flower looks like.
Use felt to cut out a small pocket for Elf. Tape the pocket to his chest. You can then craft your own little Wocket to add to the pocket, or just the "hair" of the Wocket and allow that to stick out.
Use yellow or white craft foam or paper to cut out your own moon! You can prop Elf's head on a small pillow as well. Goodnight, Elf!
Use your little finger to make a fingerprint design and set your Elf on the paper so it looks like he made it. Your child will have lots of fun doing the activities in this book as they count down to Christmas!
Create a small hopscotch board with tape so Elf can "hop" his way around.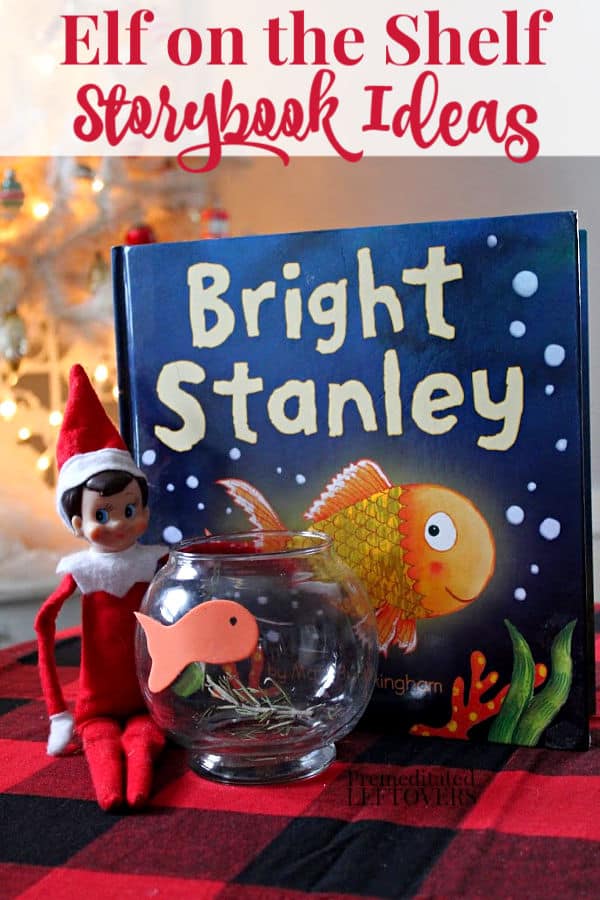 Use orange craft foam or felt to cut out a small fish. Glue the fish to a small glass bowl or cup. Elf now has his own Bright Stanley!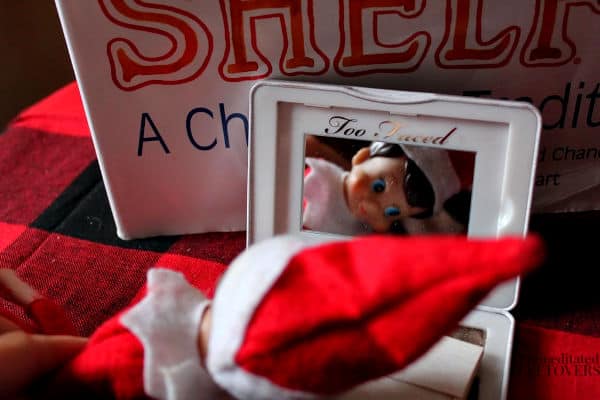 Give Elf a small hand mirror so he can see that he is the character in the book! Hey Elf, that's you!
Bring in a handful of snow and make your own mini snowman OR create a small snowman using cotton balls and felt pieces.
Use pipe cleaners in various colors to make your own rainbow. Wrap the pipe cleaners (red, orange, yellow, blue, green, purple) together at the ends and arch to make the rainbow.
Add some cotton balls that your child can use to make a snowman. They can use a glue stick to glue the cotton balls on a piece of paper. Then use either a marker or construction paper to create the eyes, nose, and mouth.
We will be adding to this list as we do Elf on the Shelf ideas inspired by our kids' favorite books this holiday season.
What if I miss a day of Elf on the Shelf?
These book-themed Elf on the Shelf ideas are easy to implement, but the holiday season is busy so there is a chance you will miss a day. We have created a printable letter that you can use if you forget to add a book one day. You can print it out here. We also have an unsigned version.
Printable Reading Log
If you would like to help your child keep track of the books they read over winter break, you can print out this Holiday Reading Log. However, if you use the log, make sure you do not turn it into a chore or homework! Keep it positive! Write down the books for young children or have an older child write down the books themselves, so you will have a reminder of all the fun books you read with your elf. If you want, you can tuck the list away and pull it out in future years to look back on.
Did you do a book-themed Elf on the Shelf idea with your kids? Share the book and idea with us on our Fun Learning Ideas for Kids Facebook Page. If you would like me to add a picture of your idea to this list, send it to me at [email protected]
More Christmas Book Ideas for Kids
Tips for Creating a Book Advent Calendar