This bouncing beans activity is an easy and educational activity that your kids will love!
This Bouncing Beans Activity for Kids is fun and engaging for kids, but can also be used as an educational activity for multiple age groups. It would be a great activity if you have kids of different ages because you can easily make it educational for so many ages – and who doesn't like watching beans bounce!
For preschoolers, you can use it to talk about the letter "B" and how "B" is for "bean" and "bounce".
For early elementary schools kids, it makes a great science activity. You can ask them to guess what bean is going to bounce the most, explain why they think it will bounce, and then see what actually happens.
For older elementary kids, you can have them record their hypothesis and observations in a science notebook and talk about how the reaction produces carbon dioxide bubbles that push the beans up as they escape into the air outside the jar.
Bouncing Beans Activity for Kids
Supplies:
16 ounce glass mason jars
dry beans
water
white vinegar
baking soda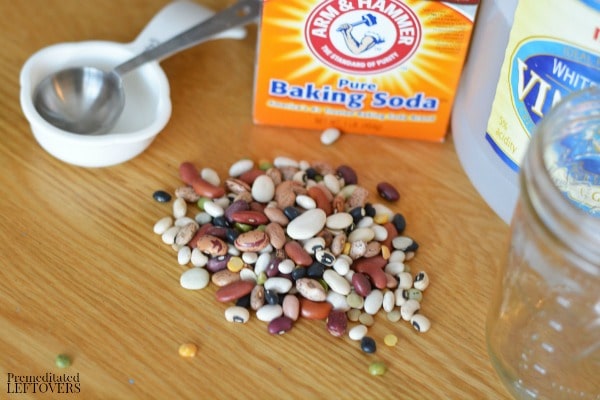 Directions:
1. The ratio in my jar was: 1 cup water, 1/4 cup vinegar, 1 Tablespoon baking soda. Once you add the baking soda, it will overflow. While this is fun to watch, it is best to do this over a towel!
2. Then add beans and watch! You can use any kind of beans, but using a mix allows your children to guess and see which beans rise most quickly.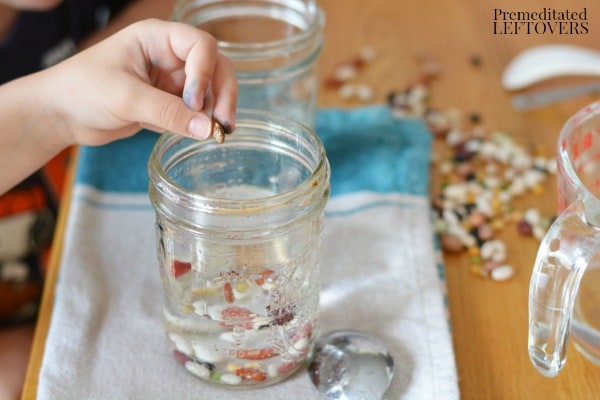 The beans will sink when you put them in the jar, then rise; some will fall and others will bounce.
The whole activity takes just minutes, but it is packed with opportunities for learning!
More Fun Activities for Kids:
10 Educational Sidewalk Chalk Activities
Alphabet Activity Jar and 5 Alphabet Activities
10 Quick and Easy Phonics Activities
Easy Chemistry Experiments for Kids
Thanks to Kari of Craft Create Cook for sharing her tutorial and pictures with us.