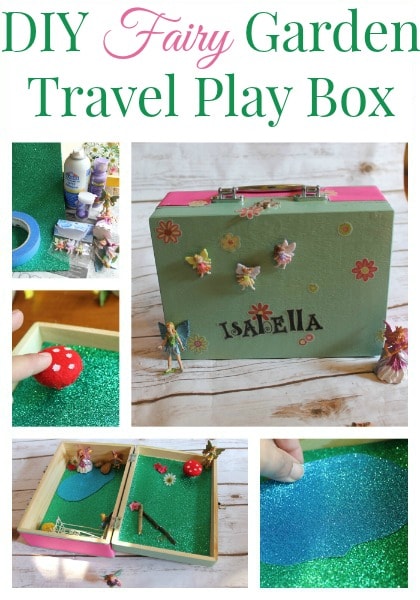 This Fairy Garden Travel Box is perfect to keep your little enchanted fairy lover busy on long car rides, at the doctors office, or while waiting for your dinner at a restaurant. You can create it with her or make it as surprise homemade Christmas or Birthday gift. Personalize it with her name and favorite colors to make it unique. I picked up all the supplies used to make this at Hobby Lobby, be sure to take advantage of your 40%off coupon on the wooden case or toob of Fairies to make it a more frugal craft. If you know a little girl that loves fairies and all the sparkling, magical enchantment that they entail, she will love to have her own travel case to take her adventures with her everywhere.
Fairy Garden Travel Box
Supplies Needed:
Unfinished wood case with handles
Spray paint or acrylic paint
Glitter foam
Miniature silk flowers
Spray adhesive
Stickers or other embellishments for decorating exterior of box
Hot glue gun/sticks
Directions:
Begin by painting the unfinished case. I tape off the metal with painters tape to protect it.
The simplest way to paint your box is by hanging it from a limb outside and spray painting it. First give it one thin tack coat, then add two to three more coats until sufficiently covered.
Allow the case to dry, overnight is best. Then you can decorate the outside by personalizing it with letter stickers, flowers, fairy stickers, or give it some dimension by hot gluing on some fairy buttons like I did. To finish it off I coated one side of 2″ ribbon with spray adhesive glue and wrapped it around the box.
Now you are ready to move on to the inside details. Measure the inside of your box, cut green sparkle foam to fit. Coat the back side in spray adhesive and press into place on both sides. Cut a small sparkling pond from blue sparkle foam and affix the same way.
Add miniature flowers to make it more garden like, and secure with hot glue. Use some natural elements from your yard as well, like smooth pebbles and twigs. You can find miniature furniture or other accent pieces at craft stores or online to create a tiny magical world in your travel box.
To make the toadstool, cover a wooden knob in felt by cutting it into a circle 1/2″ larger in diameter than the knob. Hot glue felt to top, tuck under. Dab on white glue using the end of a paintbrush to create dots, secure to "grass" with hot glue.
More Homemade Gifts for Kids