Last month, I accidentally bought too many tortillas and had a week of quesadilla recipes. Surprisingly my family did not get tired of quesadillas. Perhaps because they are just thankful that I cook for them and choose not to complain. No, that can't be it. It is probably because I tried to create truly unique flavor combinations each time I served quesadillas.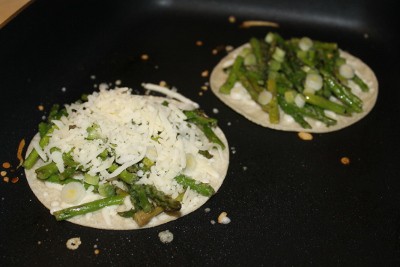 My oldest kids started using my recipes and making quesadillas for lunch. Since they were cooking for one or two, they adapted my recipes and made them in the microwave. Which you can do, but I prefer the crunchiness of the tortillas cooked in on a skillet.
You can use whatever type of tortilla you wish. I use corn tortillas. They are flavorful, frugal, and much lower in calories than flour tortillas.

Asparagus Quesadillas
Ingredients
1 tablespoon olive oil
1 clove garlic, minced
2- 3 cups asparagus, cut into bite size pieces
dash of pepper
12 tortillas
1½ cups cheese
2 green onions, thinly sliced
Directions
In a large skillet over medium-high heat stir oil. Add garlic and saute for 1 minute.
Add asparagus and pepper: toss gently until the asparagus is coated.
Put a lid on the pan and reduce the heat to low.
Simmer for 15 minutes or until the asparagus is tender.
Remove asparagus from pan.
Place tortillas on pan.
Sprinkle 1 -2 tablespoons of cheese on each tortilla.
Place ~1/3 cup of asparagus on cheese.
Sprinkle some diced green onions over asparagus.
Top with 1 – 2 tablespoons of cheese.
Place another tortilla on top and press it down to evenly smush the ingredients between the tortillas.
Cook until the bottom tortilla is brown. Flip and cook until the other tortilla is brown, approximately 3 -4 minutes each side.
Repeat until all of your quesadillas have been made.
Cut in half and serve while hot.
More Quesadilla Recipes:
This recipe is shared with the Hearth and Soul Hop.