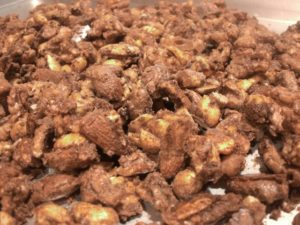 My family loves candied nuts. I love how easy they are to make! They make a lovely and delicious gift for friends and neighbors at the holidays. One of the things I like about giving them as a food gift is that they are easy to package. You don't have to worry about cutting even pieces, just toss them in a pretty tin and they are ready to be delivered.
I coat the nuts with chai spices. You may not have two of the spices needed to make the chai spice mix in your cupboard: cardamon and white pepper. If you don't have them, leave them out and you will have pumpkin pie spiced candied nuts instead.
Use whatever nuts are on sale to make this recipe or do as I do and use the leftover nuts from all of your other holiday baking. I used leftover pecans, walnuts, almonds, and peanuts. The possibilities are endless.

Chai Spiced Candied Nuts
Ingredients
2 egg whites
1 cup brown sugar
1 tablespoon chai spice
4 - 5 cups nuts
Directions
Preheat oven to 300 degrees.
In a medium bowl, beat egg whites until they are foamy.
Add sugar and spices to the egg white and thoroughly combine.
Add nuts to mixture and stir to coat.
Spread nuts in a thin layer on a greased cookie sheet. Bake for 30 minutes, stirring occasionally.
Let cool on the cookie sheet.
Notes
Store in a container with a lid.
This post has been linked to A Week of Handmade Gifts and Slightly Indulgent Tuesday.