This chocolate raspberry bark recipe only uses 2 ingredients and comes together quickly.

Last week, I invited some friends over to serve as "taste testers". I had a hodgepodge of recipes that I was loosely pulling together to create a dinner. At the last minute, I decided I wanted to serve a dessert, but I didn't really have time to bake anything. I rummaged through the pantry and fridge and found dark chocolate and raspberries. And that was all I needed to quickly create this fast and easy Chocolate Raspberry Bark Recipe.
How to Make Chocolate Raspberry Bark

To add an air of elegance (and make it look like dessert wasn't thrown together at the last minute) I made the bark inside of cookie cutters. My son brought me back to reality by asking what I was making using his playdough toys. It is hard to pretend at elegance with a young child around.
Don't worry if a little chocolate oozes out under the bottom of the cookie cutter. Once it is chilled, that chocolate will break right off and you can use it to bribe children to help set the table.

The first time I made these I drizzled the chocolate over the top while the bark was still in the cookie cutters. Today when I made these again, I chilled the chocolate and raspberry bark until it was solid enough to be removed from the cookie cutters. Then I used a Frosting Decorator
to pipe more melted chocolate over the top of the raspberries.
Chocolate Raspberry Bark Recipe
Ingredients:
12 ounces dark chocolate
8 ounces raspberries, rinsed and dried
Directions:
Place a piece of parchment paper or foil on a flat tray.
Rub cookie cutters with oil.
Melt chocolate according to package directions.
Pour or spoon chocolate into cookie cutters (1 – 2 ounces per cookie cutter) reserving some to drizzle over the top.
Place raspberries upside down into the chocolate while it is still soft.
Chill for 30 – 60 minutes, until it solid enough to be removed from cookie cutters.
Drizzle remaining chocolate over the tops of the raspberries.
Chill in the refrigerator for another 30 – 60 minutes.
Store leftovers in the refrigerator.
Printable Recipe for Raspberry Bark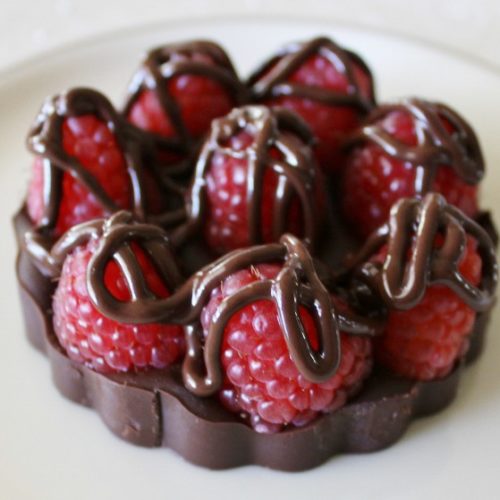 Print
Chocolate Raspberry Bark
Recipe for Chocolate Raspberry Bark
Ingredients
12

ounces

dark chocolate

8

ounces

raspberries

rinsed and dried
Instructions
Place a piece of parchment paper or foil on a flat tray.

Rub cookie cutters with oil.

Melt chocolate according to package directions.

Pour or spoon chocolate into cookie cutters (1 - 2 ounces per cookie cutter) reserving some to drizzle over the top.

Place raspberries upside down into the chocolate while it is still soft.

Chill for 30 - 60 minutes, until it solid enough to be removed from cookie cutters.

Drizzle remaining chocolate over the tops of the raspberries.

Chill in the refrigerator for another 30 - 60 minutes.

Store leftovers in the refrigerator.

Printable Recipe for Raspberry Bark
Nutrition
Calories:
269
kcal
|
Carbohydrates:
23
g
|
Protein:
4
g
|
Fat:
18
g
|
Saturated Fat:
10
g
|
Polyunsaturated Fat:
1
g
|
Monounsaturated Fat:
5
g
|
Trans Fat:
0.01
g
|
Cholesterol:
1
mg
|
Sodium:
9
mg
|
Potassium:
347
mg
|
Fiber:
6
g
|
Sugar:
11
g
|
Vitamin A:
26
IU
|
Vitamin C:
7
mg
|
Calcium:
38
mg
|
Iron:
5
mg

More Bark Candy Recipes:
Peanut Butter Bark with Pretzels