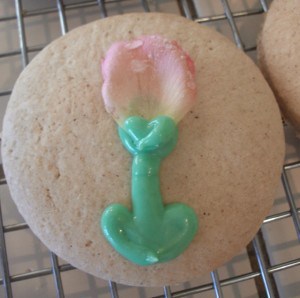 I would much rather bake a batch of cookies or a cake than decorate them! For that reason, I make use of what ever I can to help decorate baked goods including toys , hollyhock dolls, and candied flowers. But sometimes piping is still required and that is when I make decorating icing. I think it tastes better than royal icing. It dries hard, but remains a bit moist and shiny.
Decorating Icing
Yield: 1 cup
Prep Time: 5 minutes
Cooking Time: none
Ingredients:
1 cup powdered sugar
2 -3 teaspoons milk (or rice milk or almond milk)
2 teaspoons corn syrup or corn syrup substitute
1/2 teaspoon vanilla
a few drops of food dye (optional)
Directions:
In a small bowl, combine all of the ingredients until the icing is smooth and lump free. As much as you may be tempted do not exceed 3 teaspoons of liquid – just keep stirring it will become smooth.
Place in a decorator bag or bottle and pipe on cookies or cake.
It hardens quickly once exposed to air, but remains shiny.
Kitchen Tip:
I keep my decorating bags and bottles inverted in a cup when not in use. This keeps the icing in the tip and prevents air bubbles from splattering icing when I'm decorating and reduces drips on the counter.
I used this icing on Gluten-Free Shrewsbury Cakes and added Candied Flowers.
This post is linked to Kitchen Tip Tuesday.